Harvey Gulf managed to enter maritime history archives in North America by becoming not only the very first owner, as well as operator of a dual fuel offshore support ship to bunker LNG as a marine fuel, but also by being able to successfully finish the first truck to vessel transfer operation of LNG and to power the M/V Harvey Energy on LNG.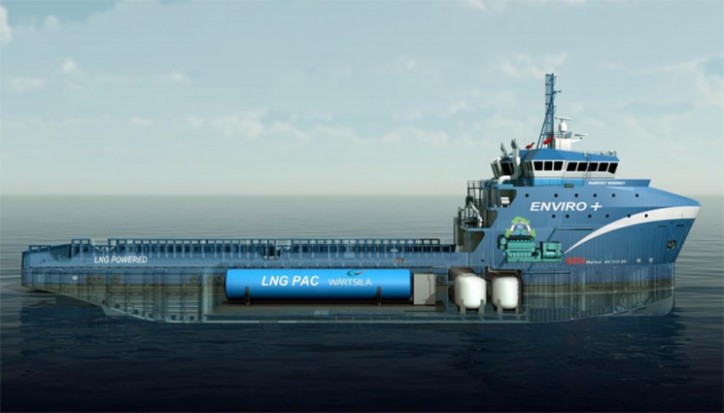 The Harvey Energy constructed GCSG in Gulfport, MS used the design of the Vard Marine 1 311 as basis. It is 310x64x24.5ft, powered via the use of 3 Wartsila 6L34DF dual fuel gensets that provide it with 7.5MW of power fueled by Wartsila's LNGPac system. The Harvey Energy sails under the US flag and is Subchapter I and L, as well as SOLAS compliant and is also classed by the ABS as +A1, OSV, +AMS, +DPS-2, +ACCU, UWILD, FFV-1, ENVIRO+, GP, GFS (Dual Fuel Diesel) E. The ship has a dead weight of 5,150 tons and a capacity of transporting 253,000 USG of Fuel Oil, along with 18, 000 Bbls of Liquid Mud, 1,600 Bbls of Methanol, 10, 250ft3 of Dry Cement and 78,000 USG of LNG fuel.
The above-mentioned bunkering for the ages occurred at a shore-based terminal which is property of Martin Midstream Partners L.P.'s subsidiary in Pascagoula, MS. Alongside the Harvey Energy's crew participated the U.S. Coast Guard, the ABS, Wartsila, Martin Energy Services LLC, State and Local Agencies and GCSG. The cooling process aimed at achieving the required tank temperature and pressure utilizing 3,800 gallons of nitrogen took roughly 12 hours to complete. The LNG bunkering was finished successfully within a couple of hours of cool-down. The Harvey Energy is now going to undergo several LNG trials before completing delivery.
Mr. Shane Guidry, Harvey Gulf Chairman and CEO, had to say the following:
"This historic event, that took place today, serves as an example of the commitment Harvey Gulf has to their respective clients, as well as evidence that the company covers all of the criteria needed to provide the cheapest, most innovative and eco-friendly technology solutions to comply with their potential business demands."
In a co-op effort with the Harvey Energy, Harvey Gulf is making serious preparations to operate and manage the very first LNG marine fueling facility in the U.S., that is located at its vessel facility in Louisiana's Port Fourchon. The fueling facility is going to be essential for the expanding national LNG supply infrastructure, providing support to various important operations of the oil and gas industry's offshore support vessel fleet that operates on clean burning LNG fuel.
Source & Image Credit: Harvey Gulf