Abu Dhabi Terminals, the manager and operator of Khalifa Port Container Terminal (KPCT), have marked ceremonially the first visit of the largest in the world container roll-on/roll-off (ro-ro) vessel. The name of the vessel is Jolly Titanio and its length is 240 metres, its width is 37.50 metres with 6,350 metres of Ro-Ro freight capacity manufactured to transport wheeled cargo, including cars, trailers and trucks.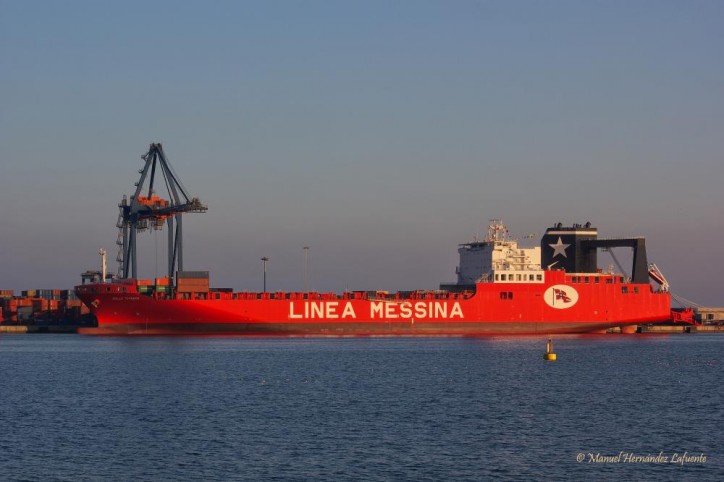 It has the capacity to hold 3,900 TEU twenty-foot equivalent unit), and that makes it the largest container ro-ro vessel to visit the UAE. The container will arrive at KPCT every 15 days and its route includes the following ports: Castellon-Genoa-Salerno-Aqaba-Port Sudan-Jeddah-Djibouti-Bandar Abbas-Jebel Ali-Abu Dhabi-Jubail-Djibouti-Jeddah-Misurata.
According to Martijn van de Linde, chief executive, Abu Dhabi Terminals ADT has obliged to fulfill an expansion programme that is in progress. The aim is to assure the forefront position of the company in the supply of exceptional service to the clients. The company has managed to enlarge its network which includes 52 international locations. Furthermore it has maintained strong cooperation with logistics and shipping circles that have used Khalifa Port as a central destination.
As a part of the ceremony Captain Francesco Scotto Di Fasano has been bestowed the traditional port plaque connected with the first visit. That has happened while Mr Van de Linde, regional director, Messina – Dubai, captain Giordano Gelasini and a couple of guests and representatives of both companies have also been in the public.