According to reports from the Singapore-headquartered anti-piracy watchdog ReCAAP information sharing centre the missing MT Rehobot tanker had been found off Mati City, Philippines.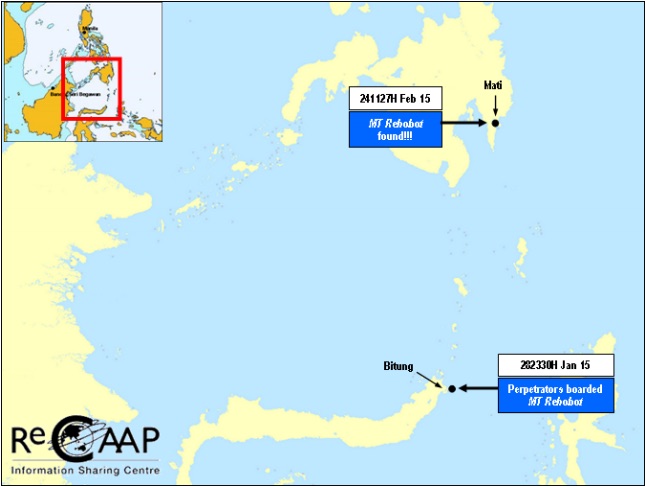 The Philippines Coast Guard (PCG) received information regarding a grounded vessel in Barangay Cabuaya, Mati City, on February 23th. Coastguards and officials from Field Station South Eastern Mindanao, as well as from the Naval Intelligence Security Group were appointed to the accident's location the following day.
After conducting an inspection of the ship, authorities confirmed that it was truly the missing MT Rehobot.
During their inspection authorities found some spillage of an unknown substance on board the tanker. Further investigations are currently being carried out in order to determine the events that have occurred since the vessel was boarded on the 28th of January.
While in the vicinity of Lembeh Island, Indonesia, eight armed men boarded the MT Rehobot on January 28th.
The men managed to take complete control of the tanker vessel, which at time was carrying a cargo consisting of 1,100 tonnes of diesel oil. The 14 Indonesian crew members of the vessel were left on life rafts.
The Indonesian authorities found the missing crew members drifting off Lembeh Island on January 31th.