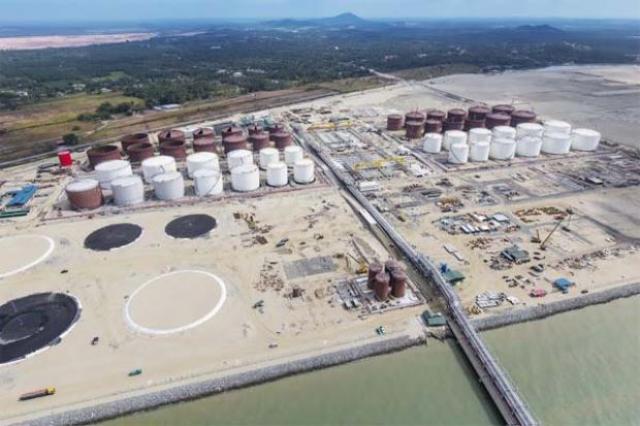 Dialog Group Berhad has announce that its Pengerang Deepwater Terminal, that has a draft of up to 24 metres, and is located at Pengerang, southeastern tip of Johor, Peninsular Malaysia has today managed to welcome its very first Very Large Crude Carrier – the Liberian-registered MT Mesdar.
The vessel. which has a total length of 333 meters and weighs 315,802 metric tonnes. came en route from the Middle East to deliver a crude oil cargo at the deepwater terminal's Phase 1.
MT Mesdar happens to be the first VLCC to call at Pengerang and also the first one to berth at Malaysian jetty, since the recent crude oil tank commissioning that took place in early March this year. Up till now, over 100 ships have used the terminal which provides petroleum as well as crude storage facilities designed for complying with all trading purposes.
Pengerang Deepwater Terminal's Phase 1 terminal which is property of Pengerang Independent Terminals Sdn Bhd, a joint venture established between DIALOG (46%), Royal Vopak (44%) and State Secretary, Johor (Incorporated) ("SSI, Johor") (10%), went operational in the second quarter of 2014. Phase 1 provides a storage capacity of roughly 1.3 million cubic metres along with six deepwater berths that cost a total of RM2.0 billion and have the capability of handling the storage, blending as well as the distribution of crude oil, petroleum, chemical and petrochemical feedstock, products and by-products.
The Pengerang Deepwater Terminal, which is an Entry Point Project that was carried out in correlation with the Economic Transformation Programme ("ETP"), is a deepwater terminal development that is situated on 500 acres of reclaimed sea-bed land and comes along with a proposed storage capacity of 5 million cubic metres.
Having a strategic location at one of the busiest shipping lanes in the world and situated close to the regional trading hub in Singapore, the Pengerang Deepwater Terminal project is also constructed with deepwater jetty facilities, that are 24 metres deep each, thus enabling it to comply with the various needs of VLCCs. The complete development process of the project may require an additional 10-15 years and is going to have an enormous impact on the local communities via the creation of many various economic activities as it will also perfectly complement the RAPID project that was announced back in 2014.