The Georgia Ports Authority had the opportunity of officially welcoming the largest vessel ever to call on the Port of Savannah yesterday with the ZIM Tianjin docking at Garden City Terminal, the company commented via a press release.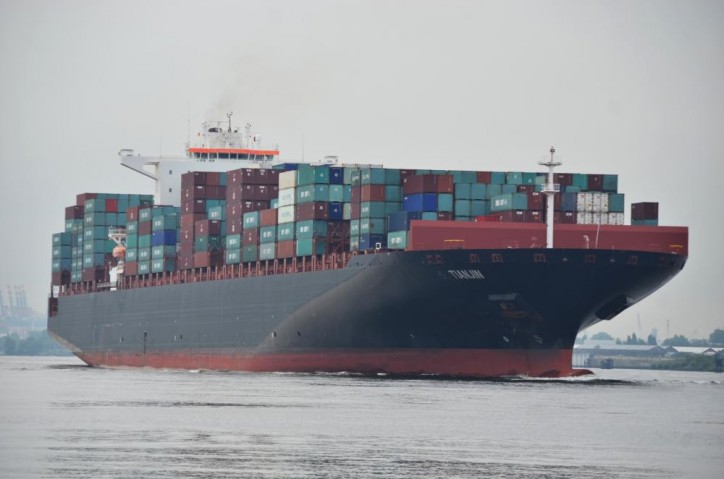 Photo: Buggi Porschein
"This 10,000-TEU ship is a good representation regarding the future of U.S.-Asia shipping," commented Curtis J. Foltz, Georgia Ports Authority Executive Director.

"The Tianjin serves as another perfect example of a current growing trend in the ocean carrier business towards larger and far more efficient types of vessels."
The ship has a length of 349 m and is 46 m wide. If stood on one end, it would almost measure up to the Empire State Building, which is 1,454 feet high, including its antenna). The vessel travelled all the way from Qingdao, China to the East Coast of the U.S. by passing through the Suez Canal.
"ZIM Tianjin's port call is another good example regarding the strong and long standing professional relationship that has been established between GPA and ZIM," commented Brian Black, ZIM Vice President.

"We are filled up with excitement to have the biggest vessel call Savannah!"
GPA crews are going to make over 2,000 container moves on and off the ship itself while it is at the dock.
Foltz commented that ships in Tianjin's class generally offer a lower cost per container slot for cargo owners and thus reduce expenses related to the delivering of goods to clients at home and abroad.
"The economy of scale which can be achieved via the use of the Super Post-Panamax vessels is evident from the fact that we are seeing more and more of them in Savannah, a trend that is bound to only go up after completing the Panama Canal expansion in the year 2016."
For it to be able to better accommodate the Super Post-Panamax vessels, the Savannah Harbor Expansion Project plans on deepening the main river channel to 47 feet at low tide (with an average of 54 feet when regarding high tide). This month, the U.S. Army Corps of Engineers issued a contract worth $134.5 million that will initiate the dredging process. The contract is related to the deepening of the outer harbor, which extends 18.5 miles into the Atlantic Ocean.
The dredging procedures regarding the outer harbor constitute roughly half of the project to deepen the 40-mile shipping channel and harbor from deep ocean to Garden City.
Georgia issued its approval for $266 million in bonds in order to cover the construction costs' projected share of the state. As the $706-million expansion is carried out, the construction funding will be shifted towards federal dollars. By providing better accommodation for larger and more efficient ships like the Tianjin, the government will enable U.S. companies moving goods through Savannah to save around 20% to 40% on transportation expenses.