Rolls-Royce has managed to secure a deal for the supplying of six of its brand new B33:45 mediumspeed diesel generator sets to the Chinese Fujian Mawei shipyard. They are to be integrated aboard the first seabed mining vessel in the world.
The first-of-its-kind vessel was ordered by Dubai's Marine Assets Corporation (MAC) and was designed by Singapore-based SeaTech Solutions. It is to be powered via the use of six B33:45L9A engines that are going to provide it with approximately 31.4 megawatts of power.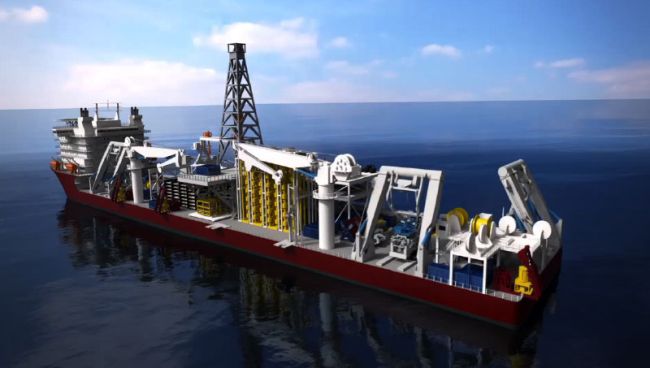 Image: Marine Assets Corporation
The vessel which has a length of 227 meters and a width of 40 meters is scheduled for delivery at some point towards the end of 2017. It is going to be operated by Nautilus Minerals, at the Solwara 1 project in the Bismarck Sea, offshore Papua New Guinea, under a long-term charter contract.
Plans are for the vessel to be used for the extraction of high grade copper, along with gold, silver and ore from the seabed. The water depth of the areas in which the vessel is to operate is about 1,600 meters.
Marine Assets Corporation's Chief Operating Officer, Mark Reeves, commented:
"It is quite thrilling to be involved in a first-of-its-kind project, and we are glad that we are able to continue our long history of working with Rolls-Royce."

"This contract marks another important step going forward regarding our new family of mediumspeed engines' development. All of the new engines are, of course, designed to be able to comply with the needs of a wide range of ship types," further added President of Commercial Marine at Rolls-Royce, John Knudsen.

"Deep sea mining is one of the most exciting new industries out there, and keeping in mind our thorough expertise regarding the offshore business, we are glad to be working with the Marine Assets Corporation along with their partners in our joint effort aimed at enabling them to become the first movers in the extraction of valuable minerals from the seabed."
Each engine is also going to be equipped with a special Tier III-compliant selective catalyst reduction technology. If all goes as initially scheduled Rolls-Royce should be able to complete the first delivery of the six 9-cylinder engines to the Fuijan Mawei yard in March of 2016.
The supply agreement also includes three underwater mountable thrusters, along with two retractable Azimuth thrusters and two bow thrusters.
Source: Rolls-Royce