March 25th marked the launching of the Russian Ministry of Transport's 16 MW Icebreaker at the Arctech Helsinki Shipyard.
There was a special ceremony that preceded the floating of the vessel, as Marina Vasilyevna Kovtun, the vessel's Godmother as well as the Governor of the Murmansk Region, broke a champagne bottle on its bow and thus officially named the ship. She wished the Murmansk Icebreaker and its crew the best of luck.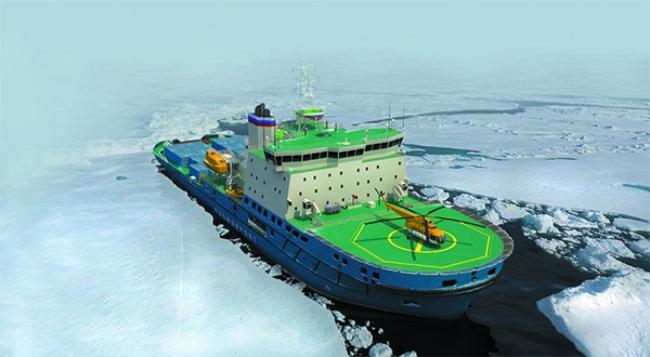 The vessel is one out of a total of three new buildings for which the Russian Ministry of Transport placed an order to Vyborg Shipyard. Vyborg Shipyard will be tasked with providing the basic design and all major components, as well as 40% of the hull blocks of the vessels. Arctech will bear all responsibility regarding the vessel's respective manufacturing, outfitting and commissioning processes.
"The Murmansk Icebreaker that was launched today, is part of the Russian icebreaker renewal program and is a specific type of icebreaker that will be able to operate in both Baltic Sea and Arctic conditions. The ship is being constructed in a co-op effort with Vyborg shipyard and has been scheduled for delivery later on this year", said Esko Mustamäki, Arctech Helsinki Shipyard Managing Director.
The Arctech new building no. 509 vessel's main objectives will be focused on icebreaking procedures and providing the necessary assistance to heavy-tonnage vessels in ice, as well as towing certain vessels and floating structures, that are in need of help, in ice as well as in open water. The ship is also planned to be used in situations involving fire-fighting activities on floating objects and other various facilities along with the carrying out of cargo transportation duties.
The vessel is projected to have a length of 119.8 meters and a breadth of 27.5 meters. It will have a maximum icebreaking capability of 1.5 meters and will be capable of operating in temperatures that may go as down as -40°С. Its main ficeour diesel generator sets have 27 MW of total power and its propulsion power comes along the lines of 17.4 MW via the use of two full-circle azimuth thrusters.
Arctech is currently constructing six icebreakers. The Russian Ministry of Transport's Murmansk Icebreaker vessel is scheduled for delivery at some point in the autumn of 2015. The second vessel, which will be the first LNG-powered icebreaker in the world, was ordered by Finland's Transport Agency and is due for delivery by the beginning of 2016. Back in the spring of 2014, the company managed to receive a contract for the construction of an icebreaking supply ship for Sovcomflot, which happens to be the biggest shipping company in Russia. Then later on in the summer of 2014, the shipyard received an order for an additional three icebreaking stand-by vessels. The company is now preoccupied with orders, with the last of them being scheduled for completion for the summer of 2017.
Source & Illustration: Arctech