NAASCO has launched the building of APT-3 ECO Tanker, the third entry in a series of five vessels that are to be build for the purposes of American Petroleum Tankers.
During a steel cutting ceremony, that was held at a NASSCO shipyard in San Diego, the company made it clear that it was launching the building of a 3rd ECO tanker that is to be delivered to American Petroleum Tankers.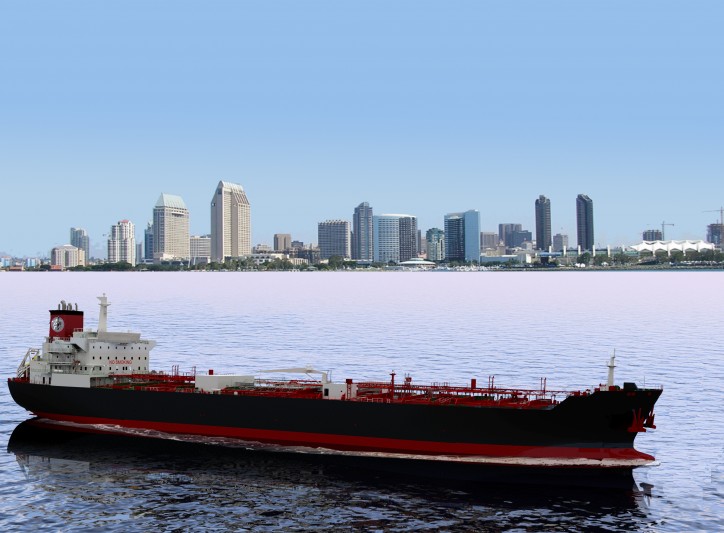 Artist's rendering: NASSCO
The new ECO tanker comes as part of a contract involving the construction of a total of 5 vessels. It will further solidify and reaffirm both companies' respective commitment towards designing, building and operating new high-tech and more energy efficient fuel-saving products. Each one of the five tankers, that NASSCO is to construct, will have a deadweight of 50,000 tons, be able to run on LNG fuel and will have the capability of transporting an approximate cargo of 330,000 barrels. All of the tankers are planned to have a special ECO design that will allow them to have increased energy efficiency and will be integrated with a vast number of eco-friendly features, such as a Ballast Water Treatment System.
"The U.S. maritime industry is currently going through one of its more exciting and promising times. The new Jones Act product tanker vessels are equipped with cutting edge systems and innovations that help achieve fuel efficiency levels like none before, plus they also provide new job opportunities at our shipyard," commented Parker Larson, NASSCO's director of commercial programs.
The five-tanker contract is of high importance and is essential for the company if it is to sustain and guarantee the further growth of its workforce of almost 3,800 people. The first tanker of the contract entered its building phase back in September of 2014.
"We are quite excited as well as pleased that we are able to initiate the building of our 3rd ECO Class tanker at NAASCO. These brand new ships will be the perfect addition to the current APT fleet and will aid us in our continuous efforts of being able to provide our clients with the best service out there," added Rob Kurz, American Petroleum Tankers' president.
The brand new ships are to be built and subsequently operated in accordance with the Jones Act, which stipulates for all vessels that carry cargo between U.S. ports to be constructed, crewed as well as owned by the United States.