The San Francisco-based Water Emergency Transportation Authority (WETA) recently decided to appoint a shipbuilding contract to Seattle-based Kvichak Marine Industries in regards to the design and subsequent manufacturing of two all-aluminum 400 passenger-only ferry vessels.
WETA has come out and stated that the $32-million contract is funded via a combination of State Proposition 1B grant funds, Federal Transit Administration grant funds, Alameda County Measure B Transportation Sales Tax and Regional Measure 2 bridge tolls.
"Kvichak's whole team is nothing but proud to have this unique opportunity of constructing WETA's two brand new cutting-edge ferries. We are going to build two wonderful boats that are to serve Bay Area citizens for decades to come," commented Keith Whittemore, Kvichak Marine Industries President.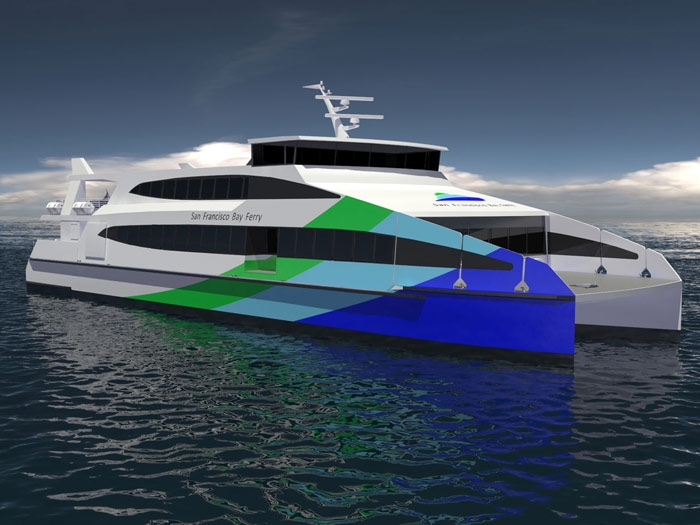 The new ships will serve as replacements for two other of the company's 12-vessel fleet, which are nearing their expected life's end.
"The current Vessel Replacement project comes along the lines of the complete renewal process regarding the company's fleet. By doing this we will be able to provide an even more reliable service to our current and new potential customers when commuting or travelling across the Bay area. We are happy to be working alongside Kvichak towards the bettering of our passenger ferry fleet," commented Nina Rannells, executive director at WETA.

"The all-aluminum catamarans' design was created by Australia-based Incat Crowther. The 135 ft x 38 ft vessels are to have a 6.75 ft draft and will be equipped with MTU 12V4000 M64+ EPA Tier III engines rated 1,950 BHP @ 1830 RPM along with ZF7600 reduction gears. The vessels will also feature an exhaust after treatment system and will be able to reach a service speed level of 27 knots.
Kvichak decided to award a subcontract to Nichols Brothers Boat Builders for the provision of the project's bolt-on superstructure. In the period of 2007-2010, the two companies worked together and managed to deliver four 118 ft eco-friendly ferries, that are currently operating in San Francisco's Bay area for the purposes of WETA.
The two new ordered vessels are to be Kvichak's 700th and 701st and expectations are for them to be service-ready in the summer of 2017.