According to a report by the International Chamber of Commerce (ICC), a small coastal tanker is hijacked by pirates in SЕ Asia approximately each two weeks during its transport service.
Since the beginning of 2015, the South-East Asia records 55% of the world's 54 piracy and armed robbery incidents.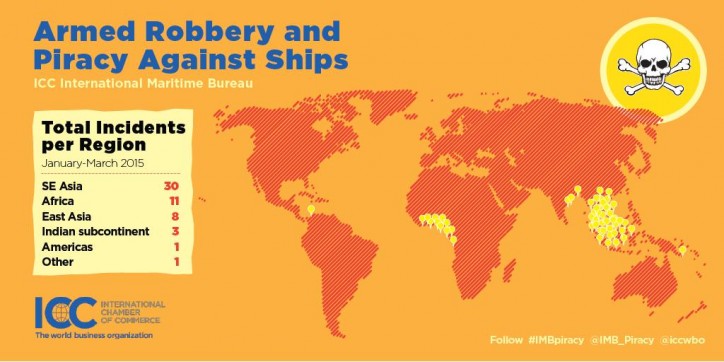 Reports show after the decrease in global piracy incidents during the last years, a 10 % increase of pirate attacks was counted in the first three months of 2015, in compare with the same period of 2014.
The 140 hostages from all around the world, taken by pirates in the first quarter of 2015, are three times as much as, compared with the 3-month period in the beginning of 2014. Three injured and 13 assaulted seamen incidents in total are included in the piracy report.
One man was killed in a hijacking accident involving a fishing boat near Ghana, West Africa, well known as a hotspot for violent piracy. In addition to a report for the hijacking of a small product tanker, information was given for five seamen kidnapped by Nigerian pirated in another two separate incidents.
Since April 2014, the International Maritime Bureau (IMB) has given a record for 23 hijacked vessels in the South-East of Asia, six of them have occurred in the last three months. In most of the incidents, armed criminals were attacking small coastal tankers with the intention to steal their oil-cargo. Over the first three months of the year, an offshore tug and five tankers have been hijacked.
Since 1991 the international Maritime Bureau has been observing and keeping in record the world piracy. The Director of IMB, Mr. Pottengal Mukundan said:
"The frequency of these hijackings in South East Asia is an increasing cause for concern. There's a risk that the attacks and violence could increase if left unabated."
A criminal group of hijackers have been detained by marine authorities in Malaysia. Now the hijackers are waiting for a trial.
The appeals of International Maritime Bureau have been for a better coordination and a stronger response to piracy restraint in sea waters of South-East Asia.
Indonesia records the highest number of attacks with 40% of all recorded in 2015. In these records are included 2 hijacked vessel incidents and another 19 boarded ships. The IMB informs that most of the incidents usually are not well organized and the criminals are armed with cold weapons or guns.
Vietnam has faced an increase in armed robbery incidents in the first quarter of the year. There are many reports of thieves attacks close to Vung Tau and Hai Pong.
For the first 3 months of 2015, there are no records in the IMB Piracy Report for the sea region of Somalia. Still, the ship masters are advised to follow the best Management Practices, because the threat of Somali piracy exists.
Source & Infographics: ICC