The new world's safest and fully automated APM Terminals facility Maasvlakte II has opened in Rotterdam. Willem-Alexander, the Monarch King of Netherlands and 500 senior representatives from the shipping industry and government institutions from all around the world attended the celebration for the opening of the world's most technologically modern and environmentally friendly container terminal.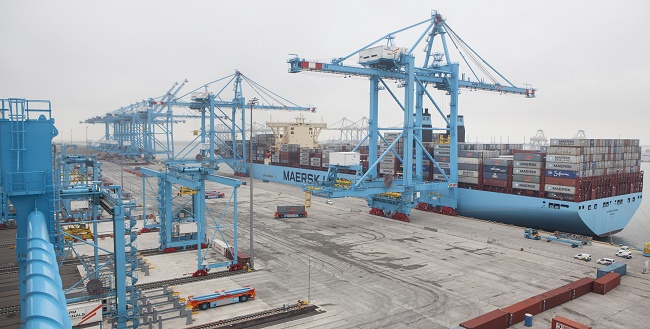 The Rotterdam Maasvlakte II facility launches the first container terminal in the world using remotely-controlled STS gantry cranes which transfer containers between vessels and the 62 battery-powered Lift-Automated Guided Vehicles (Lift-AGVs). Having been the first AGV series in the world, the Lift-AGVs transport containers between the quayside and the container yard. After the transfer from seaside to the quay, 54 Automated Rail-Mounted Gantry Cranes (ARMGs) arrange the containers in a high-density stacking system in the yard. The whole transportation process is supported by a barge and on-dock rail facilities.
The APM Terminals Maasvlakte II facility in Rotterdam is environmentally sustainable. The power requirements of the terminal for its operations, are provided by electricity that is wind-generated. The technology is environmentally friendly, with no CO2 emissions or pollutants, and much more quieter in compare with the conventional diesel-powered facilities.
Construction works of the facility started in May 2012 with the first merchant ship call in December 2014. As a multi-modal hub, the terminal was constructed on land completely reclaimed from the North Sea and with the main purpose to make less the truck traffic, helping the barge and rail network to island locations. The first stage in the Maasvlakte II operational status was completed by successful systems testing and ramp-up. In the EUR 500- million APM Terminals investment are included 86 hectare deep-water terminal, characterized by 1,000 meters quay, 8 fully-automated electric-powered STS cranes with а capacity to transfer 2,7 million TEUs per year and on dock rail, as well.
When the project is finished the terminal will offer 2,800 meters of deep-sea quay with 19,65 meters (64,5 feet) depth and will cover-up 180 hectares. The terminal is expected to have 4,5 million TEUs throughput capacity per year.
The Chief Executive Officer of APM Terminals Kim Fejfer said:
"The future of terminal operations is safer, high-volume, high-productivity performance."
The currently operating APM Terminals Maasvlakte I in Rotterdam will continue its service operations. For the first six months of 2014, the APM facility was cited as the most productive container terminal in Europe by an independent Journal of Commerce industry study, with its 102 crane moves per hour and about 2,46 million TEUs that were transferred through the terminal for the previous year.
Source&Photo: APM Terminals