A ceremonial launch of the diesel-electric submarine Krasnodar has been held by Admiralty Shipyards. Victor Chirkov, the RF Navy Commander Admiral, Sergei Movchan – the Saint-Pertersburg Vice-Governor and Aleksandr Buzakov, the Admiralty Shipyards Director General, were present at the solemn ceremony.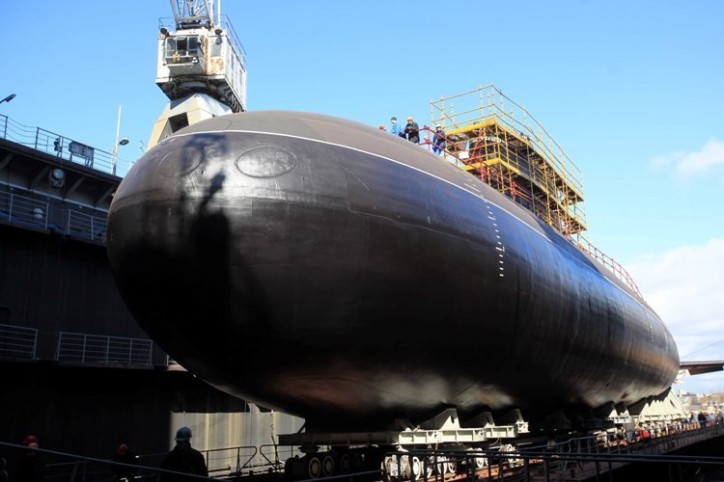 As fourth in the series being built by Admiralty Shipyards, the Krasnodar submarine was laid down in February 2014. All together in the series there are six submarines, bearing names of Cities of Military glory or Hero-cities: The first submarine of the series, Novorossiysk, was delivered in August 2014 to RF Navy; The Rostov-on-Don, delivered in December 2014; the third of the series Stary Oskol submarine, has already passed the state trials; the Kolpino and the Novgorod, are still under construction, according to their plan for delivery.
The Varshavyanka class submarines of the modified 636 projects are an improved version of the Kilo-class submarines. The enhanced combat characteristics of the non-nuclear powered submarines are presented by an optimal combination of stealth capabilities; extended combat range; the newest navigation system to strike land, surface and underwater targets; modern automated management system and powerful high-speed torpedo and missiles. The submersible ships are mainly designed for anti-shipping and anti-submarine operations in not so deep waters.
The Admiralty Shipyards (Admiralteiskie Verfi OJSC) in St. Petersburg is one of the oldest and largest shipyards in Russia, which has a key role in the Russian conventional submarine building. Last year the company celebrated 310 years since its founding. The shipyard is related with the OJSC United Shipbuilding Corporation. Contracts for Russian and foreign customers are being successfully completed in the shipyard. There are four series of submarines, ordered for RF and foreign Navy forces, which are currently under construction. Furthermore, under trails at the yard is the rescue vessel Igor Belousov, with the deep-operating vehicle Bester-1.