On May 2nd, CMA CGM KERGUELEN, CMA CGM Group's biggest ship, crossed the Suez Canal for the very first time. Admiral Mohab Mameesh, Suez Canal Authority Chairman, boarded the vessel and personally completed a section of the Canal crossing, as reported by the Group via a press release on Tuesday.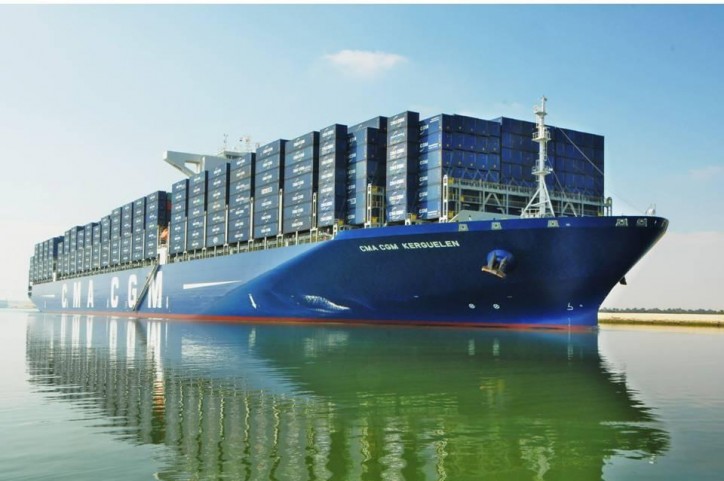 The Suez Canal is situated right amidst the crossroads established between Asia, Africa and Europe, so one can agree that is has quite the geostrategic positioning which is of great importance to CMA CGM, who are among the global leaders in the field of container shipping. Reports for 2014 displayed the fact that the Group managed to sail a total of 637 times through the Canal with its respective vessels positioned on 11 regular services.
The Suez Canal was constructed in a 10-year time period, starting from 1859 till 1869, under the close supervision of Ferdinand de Lesseps. It is one of the most important human-created canals in history and is employed for the services of the world's maritime transport industry for avoiding the need of navigating around the African continent. It has a total length of 193 km and is 345 m wide on average. Roughly 20,000 vessels cross the canal per year.
Provided the fact that gigantic vessels like the CMA CGM KERGUELEN (17,722 TEU) are entering service on a more regular basis than ever before, it is essential for maritime channels in general to upgrade their respective sizes if they are to continue servicing the needs of the maritime industry. Back in August of last year, the president of Egypt initiated the Suez Canal enlargement project, which should be completed in a total of 5 years. The current waterway is going to be dredged and subsequently deepened and enlarged on 37 km, with its width being doubled on 35 km, thus managing to enhance traffic via reducing the time necessary for crossing the canal.
The KERGUELEN is going to cross the Suez Canal a total of 2 times during her 77-day rotation between Asia, the Mediterranean and North Europe, and back.
The ship, which was successfully delivered on March 31st in Korea, is currently en route to Tangier (Morocco) where she is going to call on May 7th, and subsequently head out to Europe. The vessel is to be christened on May 12th in Le Havre.
Source & Photo: CMA CGM