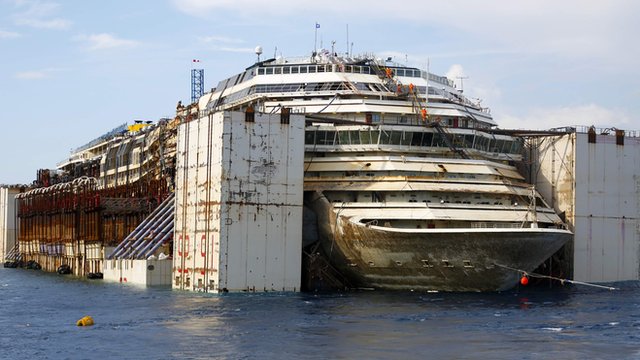 The Costa Concordia has spent the last nine and a half month docked in Genoa, Italy and is now finally ready to pass over Prà Voltri Port's breakwater after having been stripped down a notch. She will head to the Superbacino area where she is to be completely dismantled.
According to schedule, the journey has been appointed for Sunday, May 10th, but a final decision is yet to be made, as officials are to conduct a safety meeting with the local authorities and it will also depend on the possible weather conditions. The length of the route is approximately 10 miles and it will take the vessel roughly 20 hours to complete (24 if you include mooring).
The draft of the vessel was greatly reduced by removing more than 5,700 tons of interior equipment and furniture.
TITAN Salvage, subsidiary of Crowley Maritime, and Italy-based engineering partner Micoperi recently received the International Salvage Union (ISU) Meritorious Service Award in regard to their involvement in the Costa Concordia salvage operation, which made history as the single biggest maritime wreck removal ever to be carried out.
The Costa Concordia vessel ran aground in the vicinity of Giglio Island, Italy, back in January of 2012. A TITAN/Micoperi team, that was appointed to the scene, parbuckled (rotated upright) the ship, subsequently refloating and towing her away in September of last year. The project accounted for being the biggest, most technically demanding salvage operation ever and was conducted in full public view from Giglio Island.