South Korea-based Hyundai Heavy Industries (HHI) has put its new fuel saving propeller attachment device, HI-FIN, into service on a LNG carrier allowing the vessel to reap fuel savings of up to 2.5%.
The HI-FIN fuel saving propeller device is an attachment to the hub of the propeller allowing it to generate countering swirls to offset the swirls created by the propeller itself, which improves the propulsion efficiency.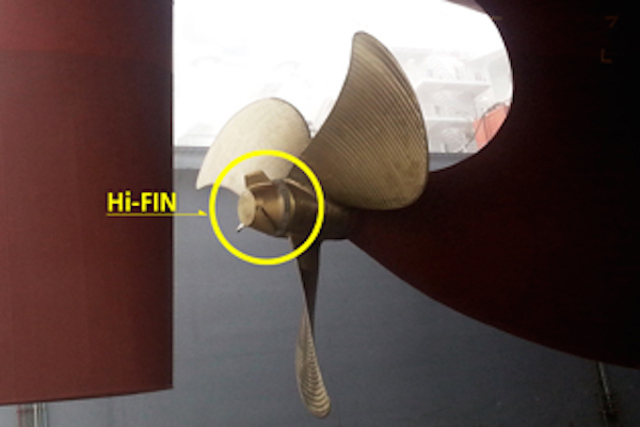 Source image: HHI
The new energy saving attachment has been installed on the 162,000 m3 LNG Maran Gas' carrier. The vessel, equipped with the new attachment device, is expected to have fuel savings more than 2,5 %, compared to the same type of vessels without the Hi-FIN.
Representative of HHI said:
"If the fuel saving ratio is calculated on the basis of an 8,600 teu containership, the owners or operators of the containership can save about $750,000 per year or $19m for 25 years, an estimated lifetime of the ship."
Since the shipyard's groundbreaking in 1972, HHI's Shipbuilding Division has garnered many awards and set many records within the naval industry. Thanks to the these achievements in the shipbuilding industry, up to the moment the HHI has won orders for over 30 ships. The South Korean company is expecting even more where the new HI-FIN device can be installed on broader types of ships, from LNG carriers to nearly all types of ships - containerships, VLCC and LPG carriers.