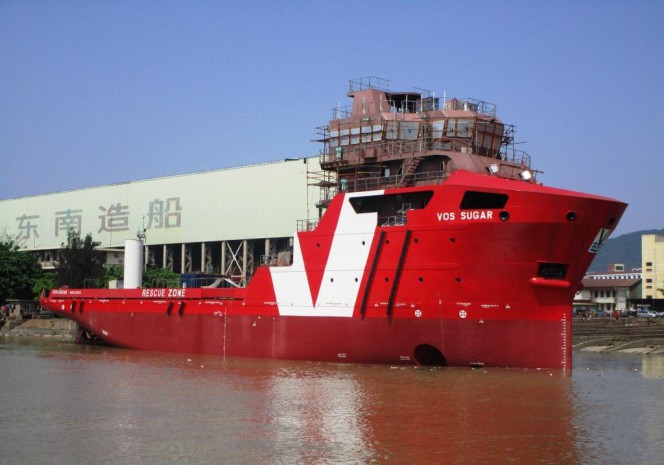 On Sunday, May 3rd, Vroon made an announcement regarding the launch of the VOS Sugar – a subsea-support vessel (SSV) with a total length of 68 meters that is currently being built at China-based Fujian Southeast Shipbuilding.
The vessel comes as the 1st out of a total of two newbuilding ships that are being constructed in Fujian, with both of them being equipped with an active heave-compensated crane. They are going to be respectively the 6th and 7th vessels in the company's growing SSV fleet. Two additional SSVs have been scheduled to enter service in 2016.
The VOS SSV series uses as basis the vessel designs of Vroon's Performance and Engineering Department, that manage to take into consideration substantial in-house offshore experience, market requirements and specific client needs.
VOS Sugar is scheduled for delivery in September of this year. After the ship arrives in Europe, she is going to be further outfitted during winter, thus making her ready for operations for the subsea season in 2016. Vroon Offshore Services Den Helder is to operate the ship once completed.