Japan-based Mitsubishi Heavy Industries (MHI)'s balance sheet for the fiscal year of 2014 (which ended on March 31st, 2015) pointed towards a 31.2% decrease in net profit, despite a recorded increase of the orders received and number of net sales, as evident by company data.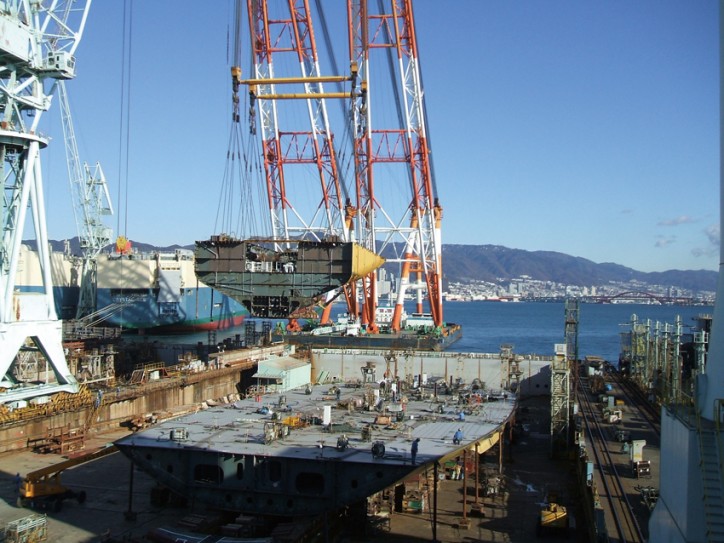 Photo: MHI
The company concluded the 2014 fiscal year with a net profit in the amount of JPY 110.4 billion (USD 920.4 million), which was a JPY 50 billion dip from what the company made in 2013.
The Tokyo-headquartered company's net profit decreased despite a 37.4% spark in the number of orders received, with MHI's backlog pointing to JPY 4,699 billion for the period in question. MHI's net sales also surged with a 19.2% increase amounting to JPY 3.992 billion.
The company's Transportation Systems sector accounted for a net sales increase in the amount of JPY 66 billion in comparison to the fiscal year of 2013, amounting in total to JPY 529.5 billion. This operations segment's net profit went up by JPY 5.1 billion, accounting for a total of JPY 23.4 billion.
There were 8 commercial and navy vessel orders for the fiscal year of 2013, and 11 for 2014.
At the moment MHI has a total of 36 vessels on order: 7 LPG carriers, 8 LNG carriers, 6 patrol ships, 4 ferries/passenger and cargo vessels and others.
"MHI's expectations for FY 2015, which ends on March 31st, 2016, are for net sales in the amount of JPY 4.200 billion, JPY 130 billion in profit attributable to owners of parent, and ordinary income in the amount of JPY 300 billion," the company declared via a statement.