The biggest container ship of the French Shipping company CMA CGM - CMA CGM Kerguelen, was officially christened yesterday at Haropa, the port of Le Havre (France).
Special guests of the ceremony were the CMA CGM Group incorporator and CEO - Jacques R. Saadé, the Senator and deputy Mayor of Le Havre - Agnès Canayer, and the Le Havre's Port Executive Director - Hervé Martel.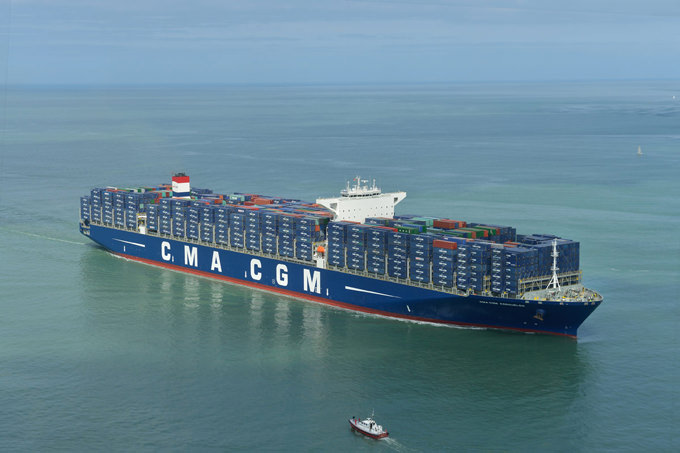 The CMA CGM Kerguelen is named after Yves Joseph de Kerguelen de Trémarec, who was an 18th Century French navigator.
The containership was built at Samsung Heavy Industries' shipyard in South Korea and was delivered in March 2015.
The 398-meter (1,305ft) CMA CGM Kerguelen is 54 metres (177ft) wide and capable of carrying 17,554 TEUs or approximately 200,000 tonnes cargo of various goods.
CMA CGM's vessel has impressive characteristics such as a length bigger than four football grounds or five-and-a-half A380 Airbus planes, a width wider than the 'Arc de Triomphe' (45m) and power of the engine equal to the power of 900 Renault Megane cars. If all the cargo boxes it could carry were placed end to end they would stretch a line of 67 miles (109 km).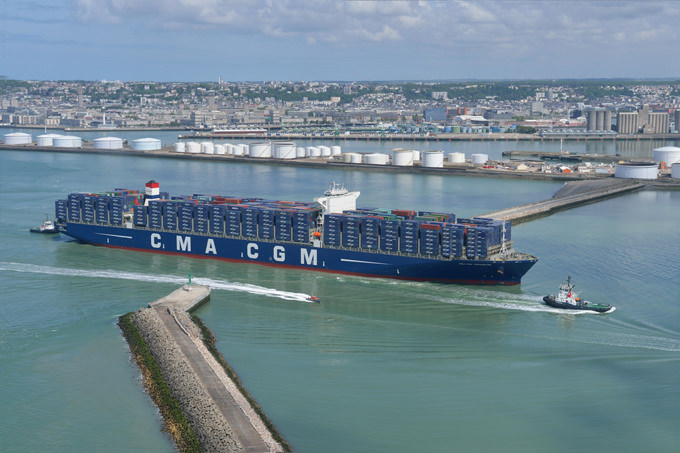 Images: cma-cgm
The container carrier will be departing from Le Havre on the French Asia Line (FAL 1), as part of the operating service of the company in the trade lanes between Europe and Asia.
CMA CGM Kerguelen is calling at DP World container terminal in Southampton, as its first and only UK stop on its maiden voyage. After a 24-hours stay in the Southampton's port, the vessel will leave on Thursday to its next port of call Hamburg.
The deep water berth in Southampton (SCT 5) was specifically built to accommodate ultra-large container ships such as the Kerguelen.
The biggest CMA CGM container carrier, the Kerguelen, is the largest British-registered ship.
Tour the vessel with Ludovic Gerard (video in French):