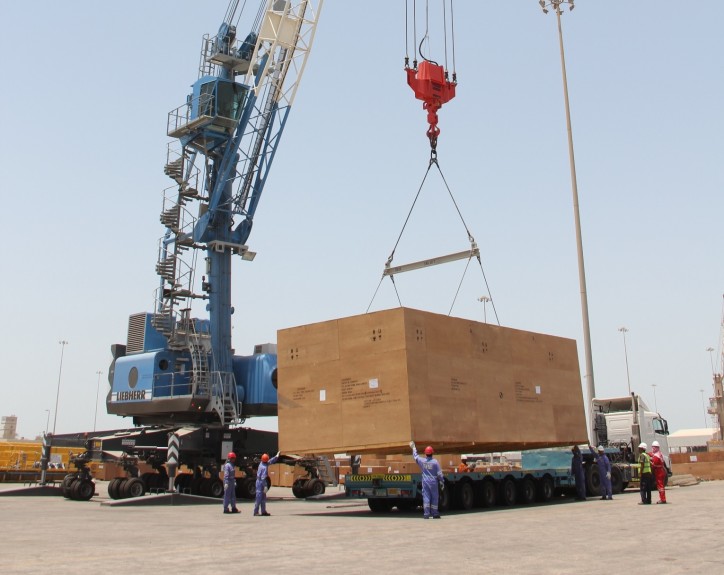 Abu Dhabi Ports has reported taking delivery of two brand new mobile harbor cranes that are going to be employed for handling the increasing amount of general cargo in a far more efficient and faster manner. The two cranes come along the lines of a current upgrade project regarding all general cargo handling equipment in the Zayed, Mussafah and Khalifa Ports, as reported by the company via a press release.
The new Austria-built cranes were supplied by Liebherr. They have a lifting capability of 65 tonnes and are going to serve as an additional to Abu Dhabi Ports' current cranes, which have a lifting capability of respectively up to 100 tonnes.
They were shipped from Western Europe to Zayed Port. Liebherr appointed several specialist engineers in order to assist Zayer Port's own engineering team for the assembling and commissioning of the cutting-edge equipment. It took the teams roughly a month to make the cranes operational.
The time necessary for assembling the cranes also was used for the Abu Dhabi Ports' staff to familiarize with the equipment, thus the cranes are not only completely operational now, but all of Abu Dhabi Ports' engineers are properly trained in regard to the maintenance procedures of the new cranes.
Gary Lemke, Abu Dhabi Ports Executive Vice President commented:
"General cargo is one of the growing sectors for our ports, encompassing a vast array of products – from grain to animal feeds, building sand and concrete. Our general cargo volume has demonstrated a steady growth of 37% over the past year and our expectations are that this trend will continue. The all new cranes are going to contribute for the increasing of our productivity as well as make it possible for us to better our operational processes and make sure that we comply and even exceed our customers' growing needs."
Abu Dhabi Ports accounted for handling record general cargo volumes in 2014, amounting to 12.8 million freight tones in total, which served as a 37% surge when compared to 2013 figures.
The major part of this volume consists of dry bulk cargo, and due to this Zayed Port has equipped itself with four brand new hoppers that are to provide further support to the sector. The new equipment is going to be employed for improving speed and efficiency levels regarding the handling of bulk dry cargo from the unloading vessels into land transportation vehicles.
The four hoppers were built by York (a local supplier) and were subsequently commissioned and tested during the new cranes' construction phase. With the utilization of the new cranes and the new hoppers, Abu Dhabi Ports will be able to significantly cut down on vessel turnaround time, thus making it possible to handle the increased capacity levels and larger bulk cargo volumes.