Yesterday, a Singapore-flagged cargo vessel was fired with warning shots across the bow by five Iranian boats in the Persian Gulf. The Iranian warships took action in an attempt to potentially stop the oil tanker. The firing was nearby port in the United Arab Emirates, causing the involvement of one more Persian Gulf nation in the known rising maritime tensions in that region.
A representative of Transpetrol, the Norwegian manager of the oil tanker Alpine Eternity, said that the ship was attacked at sea while heading to the UAE port of Fujairah. The vessel is now docked at the UAE port of Jebel Ali and is safe, with no injuries to the crew.
The Alpine Eternity was in international waters, off the coast of the United Arab Emirates, when five small fast boats of Revolutionary Guard Corps Navy of Iran approached the cargo ship. The navy patrol boats are weaponized with small caliber weapons like machine guns.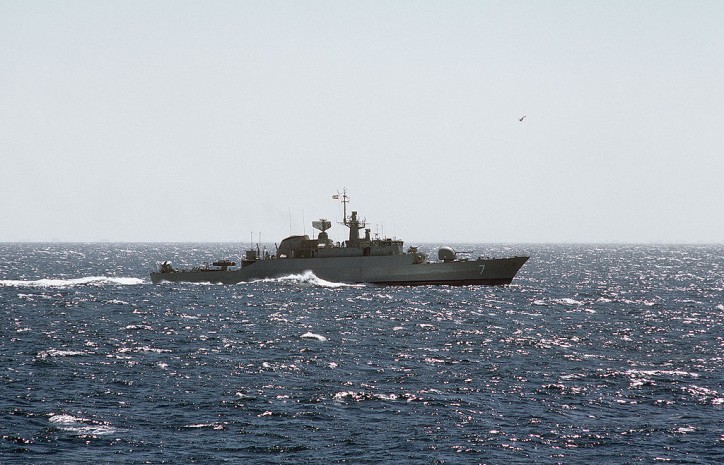 According to reports of the U.S. military, after the shooting across the bow, the cargo vessel changed direction and escaped by entering into UAE territorial waters.
Three UAE coast guard boats were sent out to escort the Alpine Eternity.
Officials said that the Singapore-flagged tanker hit an Iranian-owned oil platform in March and Iranian patrol ships appeared to be trying to intercept the vessel in order to settle a legal dispute.
At the beginning, the Iranian warships tried to order the cargo vessel into Iranian territorial water. The Alpine Eternity ship master refused to keep the course of sailing, which caused the firing from the Iranian boats. According to U.S. officials, it was in a way to try to disable the ship and not to make a warning.
The vessel was not disabled, but several shots hit the tanker and then the Alpine Eternity went into UAE waters. Iranians followed it into those territorial waters continuing to fire.
Navy patrol boats of UAE answered a distress call from Alpine Eternity and raced out to the tanker's position causing the Iranian vessels to reverse course and vacate the area.
When the incident began, the Alpine Eternity's captain did call coalition warships, including U.S. Navy warships to ask for help. A P-3 from a country in the region was sent overhead and the Navy began moving, but the incident was over before it could get to the location.
According to Ben Rhodes, the deputy national security adviser, there were "no U.S. vessels or persons" involved in the incident from Thursday.
U.S. Navy ships recently stopped escorting merchant vessels passing through the Strait of Hormuz and it is still not clear if those operations will be resumed or not. Lately, U.S. Navy had been accompanying commercial shipping in two incidents, involving Iranian patrol boats interfering with cargo shipping in the area.