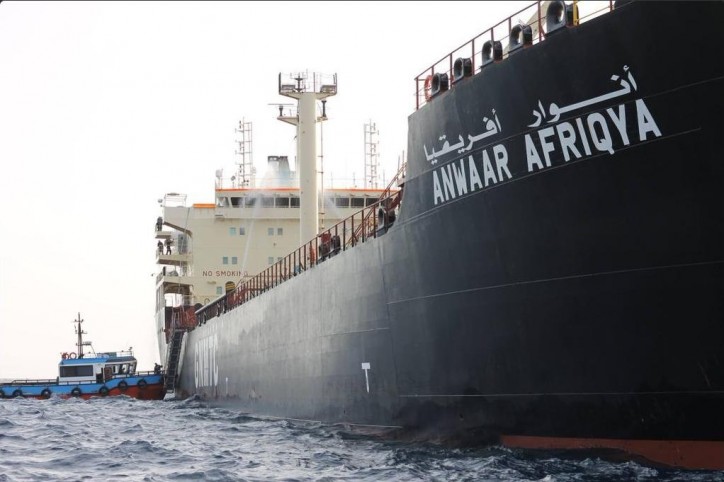 On Sunday, Libya's government airplanes bombed an oil tanker that was anchored at an Islamist-controlled terminal near Sirte for the offloading of a fuel cargo.
The bombing resulted in the killing of one and another being injured. The Anwaar Afriqya tanker caught heavy fire, as reported by the Libya News Agency.
The vessel was to offload 30,000 litres of fuel that it had transported from Greece and that was to serve the purposes of a power station located near Sirte.
It is believed, however, that the warplanes targeted the vessel under suspicion that it was transporting fighters loyal to the rival government that is based in Tripoli, as reported by Rida Issa, who is the head of Libya's central coastguard unit.
"Our jets issued warning to an unflagged vessel off the city of Sirte, but it ignored our attempts," Saqer al-Joroushi, eastern air force commander, commented.
The 34,648-DWT Libya-registered tanker was constructed back in 2004 and is owned by Libya's National Oil Corporation (NOC).
VesselFinder's latest vessel tracking data displays that the tanker is stopped and currently remains close to Sirte.
It was reported that the fire onboard the ship was extinguished late in the evening.
This case is not the first instance in which the tanker has had to deal with issues due to the political strife between the two opposing sides in the country.
Back in January, the tanker was warned by Libya's internationally recognized government to divert its course due to a threat of air attacks, which resulted in the unsuccessful delivery of 24,000 tonnes of fuel that was designated for the rival administration at the Misrata port.
The ship was subsequently released after being inspected by officials who determined that there were no weapons aboard.
This case marks the third instance in which an oil tanker has been attacked by the internationally recognized government.