The sea travel company Cruise People Ltd will put in service in French Polynesia a new vessel. The Aranui 5, which is a half cruise ship and a half freighter will begin voyages in late November.
As a replacement of its predecessor the Aranui 3, the vessel will have a dual mission, to transport passengers and cargo to the Marquesas Islands, which are the world's remotest archipelago.
The Aranui 5 will make a 2,200-nautical miles round starting from the French Polynesia's capital Papeete and visiting all six inhabited group islands of the Marquesas chain. The archipelago round will take over three days sailing.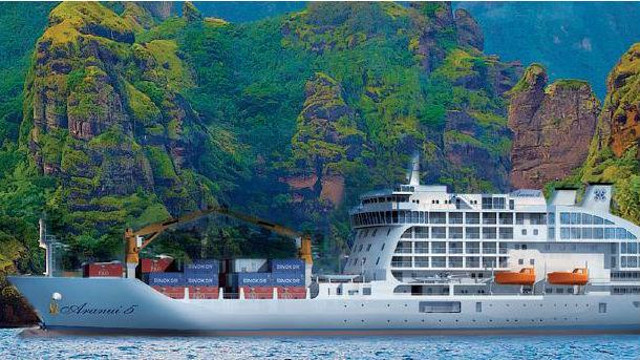 Image by: Aranui
Nearly 260 passengers will travel on board of the mixed passenger/cargo ship. It is 50 people more in comparison with the previous operating vessel in the region, the Arunai 3.
The new vessel is 125 meters long (410 foot) and has the capacity to carry more than 2,000 tons of various freight.
The Arunai 5 service in French Polynesia will give access to the isolated Polynesian Islands not only to passengers, but also will help for bringing supplies, fuel and other necessary goods to the distant island ports, which in other circumstances are cut off from the ship trade.
Except export of cargos to the islands, the vessel imports different freights from there, such as dried coconut, fish and citrus fruits.
The passenger-cargo vessel may have different design, but still it represents the shipping industry concept from the last years for mixed ships, offering simultaneous transportation of goods and passengers.
These days, near 300 mixed passenger-cargo ships are operating in the shipping industry, but having a capacity of no more than 12 passengers, because over this number the vessel must maintain a doctor.
The Cruise People Ltd, which is a sea travel company operating passenger-freighter ships, including Aranui 5, says that in all freighter voyages aboard their vessels, the passengers are accommodated in outside staterooms and each one of the ships have a swimming pool.
According to company reports of the CMA CMG, which is the third largest container shipping company, aboard of its vessels in 2013, traveled 874 passengers in total.
CMA CMG advertises sailing on board of its largest vessels - CMA CMG Alexander von Humbolt and CMA CMG Marco Polo, which have capacity of 16,020 TEUs.
The vessels' itineraries of both companies offer shipping services and passenger transport from the United States to Asia and from Mediterranean to Asia.
Another company with similar itineraries is Rickmers Line, which travel package includes a 124-days voyage all around the world.
Lately, there is a restriction for a transportation of passengers between Singapore and Genoa. In several cases passengers aboard did not follow the safety rules, they did not take under consideration crew's warning for not staying on open decks, while passing through pirate zones.
The estimated price per person for such voyage is approximately $135.