Hyundai-10000, which is the newest floating crane of the South Korean shipbuilding company Hyundai Heavy Industries (HHI), was placed first in its category, as a "symbol of HHI" by lifting a topside module of Moho Nord tension leg platform (TLP) at once, at the HHI offshore yard.
The heavy-lift vessel, Hyundai-10000 is a reliable replacement of the 1,600-ton Goliath cranes. Beside the fact that is new, the floating crane has an unparalleled lifting capacity at one of the world's biggest offshore yards.
As mentioned in the press release of the company, the Hyundai-10000 can lift subjects about six times heavier than the Goliath crane, hence its name.
Hyundai Samho Heavy Industries has completed the 10,000-ton heavy-lift vessel, at its shipyard in Yeongam, South Korea in October 2013. It was delivered to the HHI offshore yard in the end of March 2015.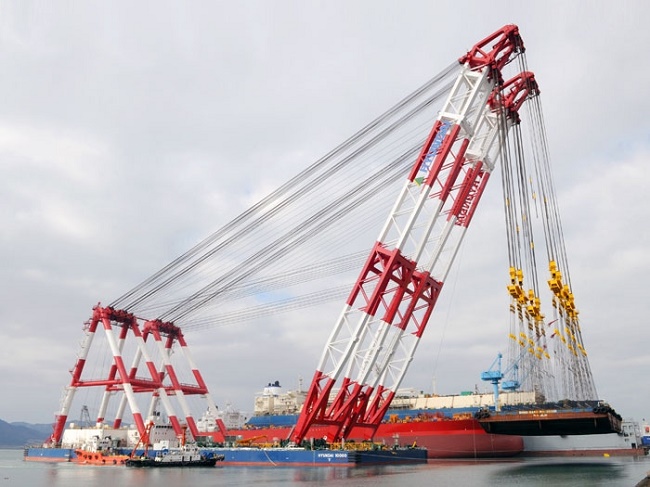 Image by: hhi.co.kr
Except being the biggest HHI crane, Hyundai-10000 is also the world's biggest shear-leg type floating crane, in terms of the lifting capacity.
There are two categories of floating cranes: a shear-leg type crane, which is fixed on the barge and a revolving type crane, which is 360 degree rotatable on the hull.
The fixed-type floating with shallow draft is more versatile for building ships, bridges and ports.

Hyundai-10000 is equipped with two 180-meter-long crane booms and two sets of 70 m high back stay. It is operable with the control of 16 sets of main hoisting winches, eight sets of jib hoisting winches and 72mm and 54mm wire ropes which are 5,700 meters long each.
The construction of the main hook includes eight sets of 1,250-ton hooks. The crane's electricity needs are covered by four sets of 2,200 kW main generators, two sets of 600 kW harbor generators and one set of 100 kW emergency generator, which produce the electricity.
The heavy-lift crane also has a ballast system for purifying the sea water, which it takes in, while it is on the sea or at berth.
Hyundai-10000 constructions is specially designed in order to enhance safety. It has the technical capability to hold objects in the air even in an emergency situation, when one of the two wire ropes are compromised.
Furthermore the crane is designed to maintain a hook angle of 15 degrees towards starboard/portside and 20 degrees towards the stern to handle the cargo in an optimal condition.
The heavy-lift vessel can maintain its horizontal position automatically within a deviation of +/-100 mm, when it lifts up a 50 meter-long cargo.