One of the most sophisticated logistics ships ever developed, the USNS Lewis B. Puller, has been delivered to the U.S. Navy.
The so-called "pier at sea" is the third Mobile Landing Platform (MLP) ship delivered by General Dynamics NASSCO. The construction of the vessel started back in 2013 and the christening ceremony took place earlier this year at the NASSCO's shipyard in San Diego.
Kevin Mooney, vice president of operations at the General Dynamics NASSCO shipyard, commented:
"Today's delivery of the USNS Lewis B. Puller to the U.S. Navy symbolizes an immense culmination of efforts made by the hard-working men and women of the General Dynamics NASSCO shipbuilding team.

"At NASSCO we are building and delivering affordable ships that are providing new and revolutionary capabilities for America's Navy and Marine Corps."
USNS Lewis B. Puller has repair spaces, mission planning spaces and magazines. It can accommodate up to 250 personnel. The 52,000 square-foot flight deck can accommodate four helicopters - designed to support MH-53 and MH-60 and to be upgraded to support MV-22 tilt rotor aircraft. The tanker-like vessel is capable of supporting missions such as Air Mine Counter Measures (AMCM), maritime security operations, anti-piracy operations, Marine Corps crisis response, humanitarian aid and disaster relief missions.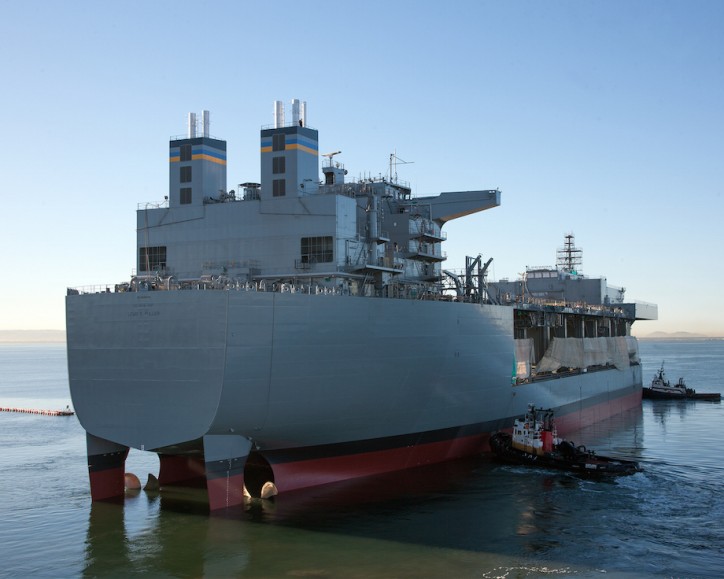 Source & Images: NASSCO