A major fire broke after a gas-pipeline explosion at Mumbai Port Trust (MbPT) Road at Wadala in central eastern Mumbai on Saturday evening.
Initial investigations show that the cause for the incident is a suspected leakage from an oil pipeline, which is passing across an area owned by the Mumbai Port Trust.
Deputy Commissioner of Police (Port Zone) Kiran Kumar Chavan told for a local media on Saturday that the pipeline in Sewri was used by Hindustan Petroleum Corporation Limited (HPCL) for transportation of its fuel.
According to MbPT chairman RM Parmar, the fire began around 5:50 pm local time. An oil leakage was detected in the morning and as stated by the head official, the personnel took all the necessary precautions. However, around 6 pm they were informed of a fire spreading in the area.
The flames were spread fast in the evening due to strong monsoon winds blowing from the southwest.
Huge plumes of smoke were seen from a distance of over 7km away in Lower Parel.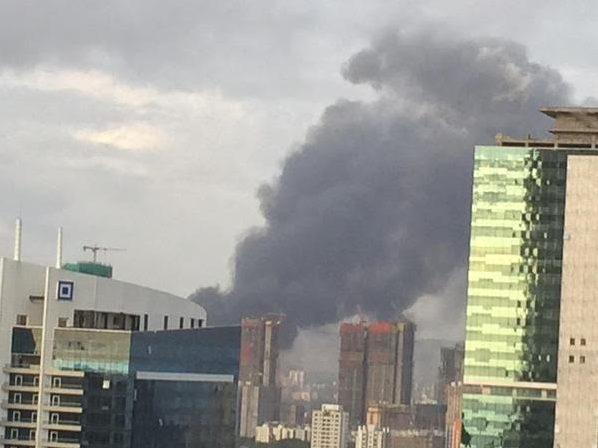 Image: The Hindu
Fifteen fire tenders and 12 water tankers were dispatched at the incident site and firefighting teams had been trying to extinguish the fire for 5 hours.
Around 11 pm local time the fire was extinguished and there were no casualties reported.
Y. Wanaghe, the Port trust deputy chairperson said that the confusion regarding fire spreading arose because of the port trust's proximity to the Castrol Lubricant Technology Centre.
"The incident happened as the leak in the pipeline was being fixed. Thankfully, no one was injured," he said.

Along with the petroleum line, in the area are passing through kerosene, diesel and black oil pipelines, as well.
The damaged pipeline, owned by MbPT was used as a connection link between the refinery of state-run oil refiner HPCL and tank farms located nearby.

The fire is extinguished, but residues of the oil which is still in the pipeline may result in minor flashes of fire, Parmar said, adding that the oil supply has been stopped.

According to reports, a large patch of mangroves near the Mumbai port was also destroyed due to the fire incident.