The European Innovation Project that is LeanShips, which stands for Low Energy And Near To Zero Emissions Ships, is to be initiated today with a two-day long kick-off that is to take place at Gorinchem, Netherlands, hosted by the Damen Shipyards Group. The project will aim to showcase the reliability and efficiency of energy saving and emission reducing systems. LeanShips happens to be one of the very first projects that have received the necessary funding under the all new European Research and Innovation Framework Program HORIZON 2020.
Damen Shipyards Group is responsible for coordinating the project, but it is, however jointly managed by the German Center of Maritime Technologies (CMT) along with the Netherlands Maritime Technology Foundation (NMT) and Italy's Ship Research Center.
The LeanShips project was officially launched on May 1st with an initial grant in the amount of 17 million Euro. There are a total of 46 partners (81% of them coming from the maritime industry) from 12 different EU member states as well as one associated country involved in the project, including shipbuilders, shipowners, research institutes and equipment suppliers.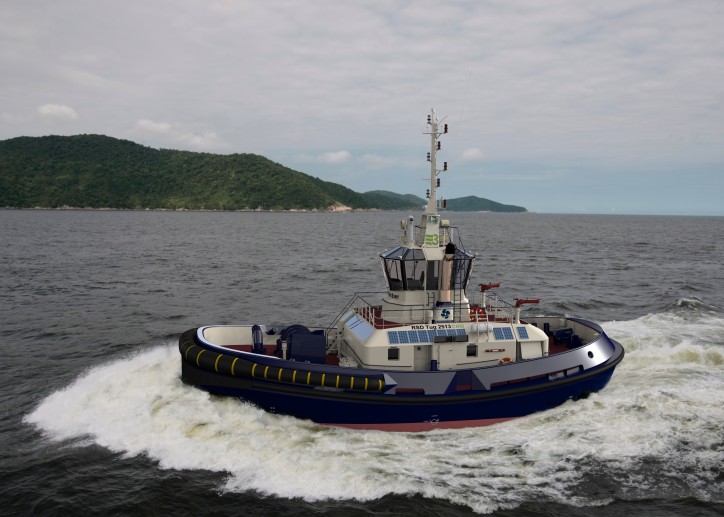 Photo: CNG - powered RSD Tug - one of eight demonstrators to be developed by LeanShips
The projects has placed its focus into putting various innovations to practice by performing eight demonstrations that manage to combine technologies designed for efficient vessels with a lower emissions' level with the needs and requirements of the end-users. Teams comprises of shipyards (technology integrators), equipment manufacturers (technology providers) and shipowners (technology users) along with regulators have been fully committed to making sure that the innovations are properly developed and ready for the market. The eight demonstrators below are all along the lines of the project:
An LNG tug
A CNG (Compressed Natural Gas) powered RSD (Reverse Stern Drive) Tug
Efficient LNG carrier
Marine Diesel Oil (MDO) or Methanol Dual Fuel for Offshore Service Vessel
Inland cargo ship with large oscillating propulsor
Retrofit of short sea cargo ship (SECA) with LNG
Energy efficient PAX /cruise ships
Large propeller for general cargo vessel
Project target markets are vessels for carrying out offshore operations, small to midsized vessels for the purpose of intra-European waterborne transport and leisure and cruise market sectors.
The initial impact estimates that are to result from the LeanShips project point towards a CO2 reduction level of a minimum 25%, a potential 25% fuel saving level and a NOx/SOx/PM air pollutant level decrease as high as 100%.
By participating in the project, all of the partners aim to serve as an example and stimulate further investments in eco-friendly technologies by the other members of the industry.
Source & Photo: Damen