Ardent, the product of the recent merger of Svitzer Salvage and Titan, along with the Spain-based Ardentia Marine salvage and diving company have managed to secure a contract for removing oil from the Oleg Naydenov fishing trawler that sunk off the Spanish coast of Gran Canarias.
Back on the 11th of April, this year, the vessel caught fire that quickly escalated. All of the vessel's crew members managed to get off safely, but as a result of the large scale of the fire firefighting experts were not able to get aboard and she sank at roughly 15 nautical miles southwest of Gran Canarias. The ship is now at an upright position on the seabed at 2,700-meter depth level.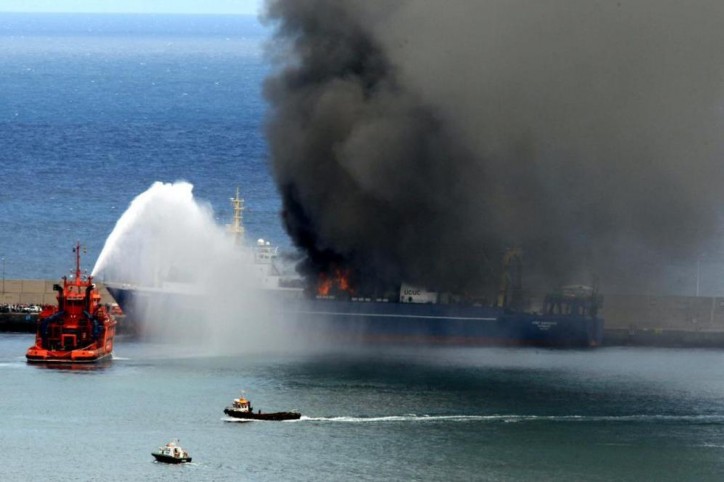 Photo: El Mundo
The Ardent and Ardentia have already started delegating the required resources in order to carry out the necessary procedures in an efficient and safe manner.
Oil receiving tanks are going to be submerged in order to gather oil from the ship and subsequently hoisted to the surface once filled up. Additionally, subsea recovery domes are going to be integrated over particular areas where leakages have been discovered in order to prevent any further pollution to the environment.
The operation is going to receive full support by remote operated vessels (ROVs), an appointed salvage team along with heavy lifting equipment that is to be located at the surface. Ardent and Ardentia are going to be establishing a close co-op effort with the Spanish Sociedad de Salvamento y Seguridad Marítima (SASEMAR) in order to guarantee the prevention of all immediate and potential long-term threats regarding the environment.
Related news:
Russian Fishing trawler sinks near Gran Canaria Island
Video: Marine authorities survey the Oleg Naydenov Wreck