Dolphin has announced that the newly delivered high-capacity 3D seismic vessel, Polar Empress, is in full production towing 14 streamers on the Maud Extension Multi-Client survey in the Barents Sea.
Norwegian based Dolphin Geophysical is a global, full-range provider of marine geophysical services. It operates a fleet of new generation, high capacity seismic vessels and offers contract seismic surveys, Multi-Client projects and processing services on a worldwide basis.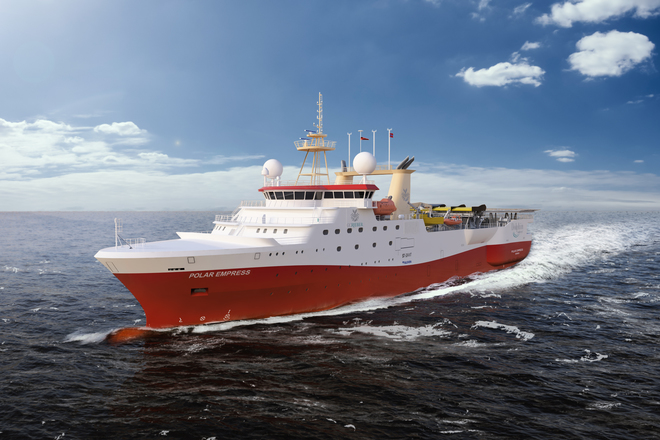 Image: gcrieber shipping
The Polar Empress is owned and managed by Norwegian GC Rieber. Recently the company has entered a five-year charter with Dolphin Geophysical. The shipowner has options to extend the charter for up to six years after the firm period.
According to Dolphin news release, the vessel will be mobilised for an exclusive contract with duration in excess of three months, starting from end of June.
Polar Empress is a further development of GC Rieber Shipping's design, based on the other two marine seismic vessels of the company, Polar Duke and Polar Duchess, but with some key adjustments that gives Polar Empress even more streaming capacity.
The unique design makes Polar Empress one of the most advanced vessel in the industry today.
Below you can see a model test of Polar Empress executed by Marintek in cooperation with Skipsteknisk.
YN369 Model tests from GC Rieber on Vimeo.
The vessel has a capacity to operate up to 22 seismic streamers, a total installed engine capacity of 22800 KW, a bollard pull in excess of 275 tons and a top transit speed in excess of 20 knots.
Dolphin`s CEO, Atle Jacobsen commented:
"The new high capacity vessel, Polar Empress, is the last high end vessel in a series of 6 , rigged and delivered according to our business plan over the last 4 years. She will be one of the most advanced and powerful seismic vessels in the world, fully equipped with Schlumberger's proven Q Marine single sensor systems, coupled with Dolphin's towing and handling solutions. Polar

We are proud to yet again demonstrate our organisation's ability to efficiently take a high-end vessel straight into production towing a 14 streamer configuration, with transit, shakedown and mobilisation in less than 2 weeks following delivery from Kleven yard in Norway. We expect the same excellent operational performance from the Polar Empress as delivered to client from the rest of Dolphin's high end powerful fleet."