Germany-based Wintershall Holding GmbH, the country's largest crude oil and natural gas producer is expanding its natural gas production in the Netherlands.
The company put into service new small unmanned platform, which started to produce natural gas off the Dutch North Sea coast.
The new concept design, called "Minimum Facility" platform is the first of its kind. It was built in just nine months and brought to its offshore location in June 2014.
The unmanned platform is located in field L6-B in the middle of a restricted military zone. The German Wintershall Noordzee is the first company that is allowed to operate in this area.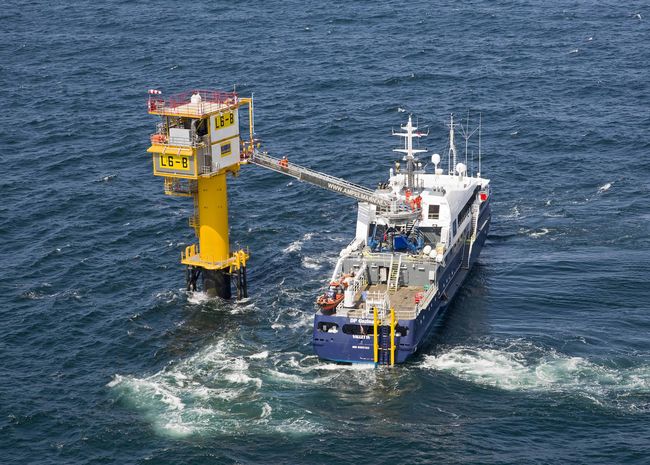 Image: Wintershall
According to the company, the advantage of this new generation of platforms is that they can be deployed in particularly shallow waters and can economically produce even from very small natural gas fields.
Furthermore, they can cut down on costs, thanks to the short time needed for construction and the simple installation.
In comparison to conventional satellite platform, the costs for such a small unmanned platform are two times less.
Wintershall believes that the new concept design is may be the smallest top side known, rising up only 18 meters (59 feet) from the sea. The new platform is secured to the seafloor with suction piles and is made up of three upper decks, but has not a helideck.
The Minimum Facility can accommodate no more than 2 producing wells. The gas-production platform weighs in total 1,200 tons (the underwater construction 1,100 and the top construction nearly 100 tons).
The mini-platform is controlled, operated and supplied with electricity from the larger L8-P4 platform, which weighs 4,500 tons. The gas produced by the mini facility is transferred to the neighboring platform via pipeline.
In the video below is shown the L6-B Platform Installation in 2014, as a joint effort between Wintershall and Scaldis Marine Contractors NV:
Wintershall is a subsidiary of German-base BASF, which has been active in the North Sea since 1965. During the last five years, the German company has been awarded exploration and production rights in around 120 licenses in the region. At the same time, it has firmly established itself as an operator of producing fields in Norway and the southern North Sea.
The North Sea is a core region for Wintershall, which operates currently 25 offshore platforms in Dutch, German and UK seawaters.