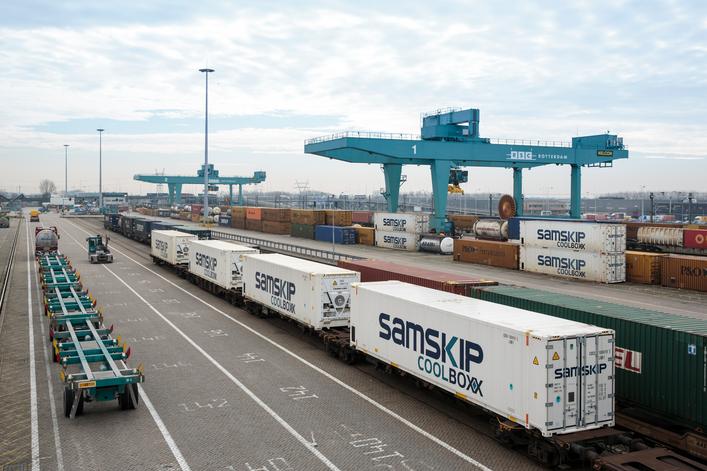 The Regional Carrier of the Year award was given to Samskip, as judges ruled out the winner at the prestigious Containerisation Awards annual ceremony of 2015. The Containerisation awards, which are regarded as being the ultimate accolade when it comes to service providers in the field of unitized transport, were carried out at the Jumeriah Carlton Tower Hotel in London on Thursday of last week, June 18th, as reported by the company via a press statement.
"The award in question serves as a reflection of the significant investments of Samskip regarding its Europe-orientated services in the field of rail, barge, shortsea and terminal operations over the course of the past 18 months, as well as the great traffic growth achieved over the said time span. The winner, however, has to display a fair share of innovation, not merely market share values etc. In order to comply with this requirement, the company's entry emphasized on its close co-op effort with leading shipping operators regarding the Blue Road project, which focuses on realizing the max potential of the multimodal option by all involved parties," commented Richard Beales, who serves as Samskip's Trade Director.
The Blue Road is a logistics solution that centers around a pioneering interface composed of scheduled barge and shortsea operations that are carried out at the Rotterdam Shortsea Terminal. It was devised in a co-op effort with shippers Mars, Heinz and Bavaria along the lines of the Netherlands-UK services. The end result is manifested in a transport solution that successfully integrates barge/shortsea traffic passing between the UK and the Netherlands, as well as rail services established between Italy and Rotterdam.
The Blue Road solution's goal is to be able to convert 15,000 truck transport operations that were previously carried out by road on an annual basis within the Netherlands to the multimodal logistics solution.
"Naturally, is it a great honor to be recognized like this for our work by an eminent group as this. We are going to continue our effort of working together with our clients in order to be able to deliver the best cost effective and sustainable transport solution available," comments Richard Beales.
The Containerisation International Awards are responsible for recognizing the achievements of the leading firms in the sector, as well as marking the major achievements in the global container shipping industry in general.