The Elgin Brown & Hamer (EBH) Namibia shipyard has announced successfully docking its first ever ship of the Panamax size via its brand new Namship 3 floating dry dock. The vessel thanks to which the milestone was achieved was the 43,469-DWT Navigation Maritime bulker that arrived at the Walvis Bay shipyard back on the 1st of this month.
EBN Nabimia commissioned its third and biggest dry dock roughly 2 years ago in October of 2013. The 195-meter long floating dock, which has a 32.9-meter wide entrance and a 15,000-ton lifting capacity was previously owned by the Australia-based Forgacs Engineering shipbuilder and repairer and for a long time served as a harbor landmark for Newcastle, New South Wales. When it was successfully sold, Lindsay Stratton, Forgacs CEO, commented in front of local media that the dock had been closed since late 2010, due to a lack of ship drydocking demand.
The dock is being far more successful for now in Namibia.
"Given that this was the very first vessel of the Panamax class to be lifted and successfully docked in Namibia coupled with the fact that the event took place at the only privately-owned floating dock of this caliber in western Africa, this was by all means a milestone moment for us and we believe that it will go down in the history books," comments Hannes Uys, EBN Namibia CEO.

"By managing to successfully carry out the operation and the project in general we have demonstrated our ability of handling vessels of this size. Namdock 3 has granted us with the opportunity of exploring a complete new field of the market, and we believe this project's success is going to provide our international-based customers with the necessary confidence to ensure them that we are fully capable of managing vessels of this type," he further adds.
The Bold Voyager vessel, which sails in West Africa between South Africa, Nigeria and Namibia, sailed off en route to Cape Town on the 12th of June. From there on she is going to travel to Nigeria in order to carry out a steel delivery operation after which she is to return to Walvis Bay for the purposes of a salt loading consignment.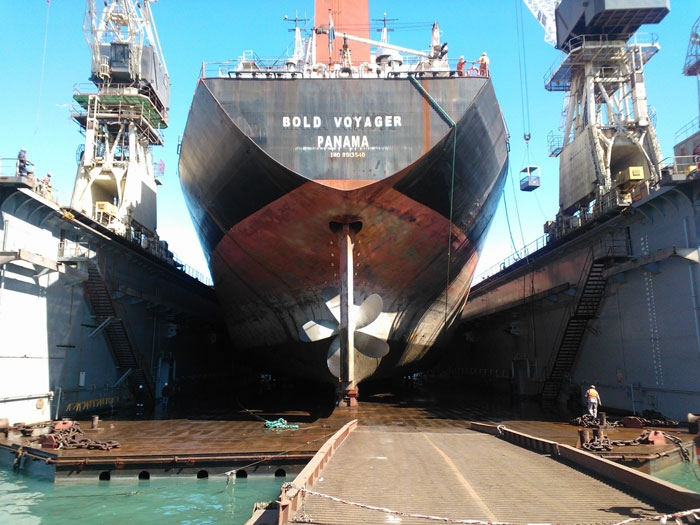 The scope of work regarding the shipyard, was finished within 11 days, including painting and blasting procedures.
"Having a total length of 185 meters a 30-meter beam, the ship is the biggest that EBH Namibia has managed to lift. It called for methodical planning before her arrival in order to make sure that work was optimized perfectly and the client was fully satisfied. The coating of the surface area, given its sheer size, called for top-notch resource management and highly coordinated communication. I am nothing but proud that we managed to ace this otherwise complicated test," comments Mr. Uys.
According to Mr. Uys, EBN Nabimia has received a couple of other enquiries regarding similar size ships, and the company is currently preparing for quite the busy period of work, as Namdock 3 settles down and reaffirms itself.