Daewoo Shipbuilding & Marine Engineering (DSME) might potentially become the number one company in the world when regarding the amount of orders received. The company has managed to already rank as the top company when accounting for accumulated order backlog amongst single dockyards and is getting closer and closer to Hyundai Heavy Industries, which still reigns as the top level player on the shipbuilding market.
As reported on June 23rd by the UK-based market survey institute of Clarkson, DSME's Okpo yard managed to place first amongst the world's single dockyards at last month's end when regarding compensated gross tonnage (CGT) in an accumulated order backlog, having posted 8.299 million. The yard has been able to hold on to the top spot for 7 straight months.
Samsung Heavy Industries' Geoje shipyard posted 5.463 CGT (93 vessels) in its backlogs, thus managing to secure the 2nd place. Additionally, the company's Ulsan shipyard has kept the 3rd spot on the list for 3 consecutive months with postings of 4.472 CGT (93 vessels). Hyundai Heavy Industries' subsidiaries Hyundai Mipo Dockyard and Hyundai Samho Heavy Industries ranked respectively fifth and fourth on the list, following HHI.
DSME managed to secure 1st place by each dockyard, followed right by Samsung Heavy Industries and respectively Hyundai Heavy Industries. When accounting by shipbuilding group, though, HHI still manages to keep its top position, even tough, by quite a narrow margin.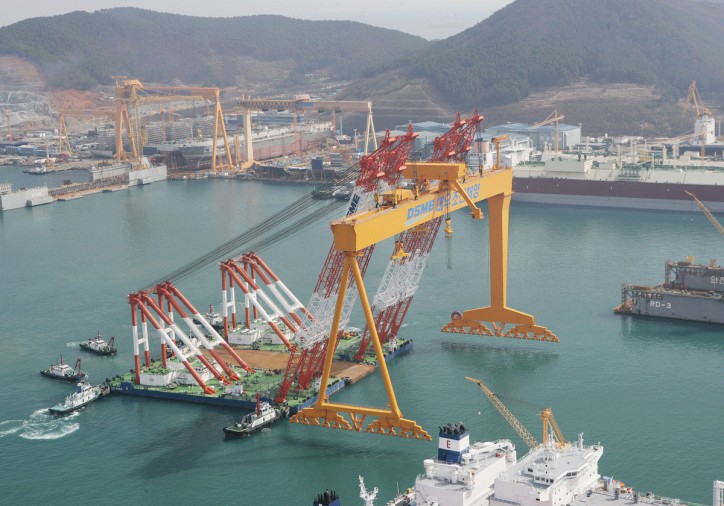 By shipbuilding group, HHI, which still operates and manages Hyundai Samho Heavy Industries and shipyards in Gunsan and Ulsan, has managed to hold onto its 1st place with marks of 9.256 CGT (208 vessels). DSME, which operates Daewoo Mangalia Heavy Industries S.A. and Okpu Shipyard in Geoje, currently occupies the 2nd place in the backlog with a mark of 9.097 CGT (156 vessels). HHI wins by only a 1.7% margin.
HHI has never managed to yield the top domestic dockyard position. DSME, however, has only the slightest of chances to rank 1st place in the world when regarding backlogs, given that Hyundai Heavy Industries does not manage to secure any more contracts during the course of this month.
DSME has managed to already receive an order from Denmark's Maersk Line regarding eleven 19,630 TEU container carriers at this month's beginning.