The Panama Canal Authority (ACP) was recently awarded a grant by the U.S. Trade and Development agency towards supporting all plan-related procedures regarding a Liquefied Natural Gas (LNG) import terminal. Expectations are for the canal to be able to handle a serious amount of LNG carrier traffic once the third set of locks are successfully finished at some point next year. For ACP to capitalize on its growth, it is planning to develop some LNG-related infrastructure projects, such as the above-mentioned import terminal.
"The United States Government is pleased to be able to endeavor into this partnership effort alongside the Panama Canal Authority via this USTDA grant aimed at helping ACP in developing a LNG import terminal in the next few years and thus take full advantage of the expansion of the Canal," commented Chargé d'Affaires Kevin M. O'Reilly, who put his signature on the grant agreement alongside Jorge L. Quijano, ACP Administrator/CEO.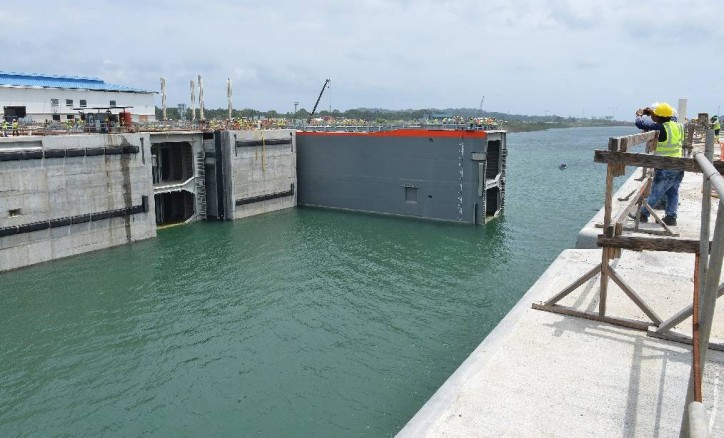 Photo: USTDA
"As we get closer and closer to the Panama Canal Expansion's completion, we get more eager to go out and explore some new segments like LNG, which we can now do, provided that we have the necessary capacity to manage longer and wider vessels. This USTDA grant is going to be employed for developing plans and various LNG-related projects and is also going to give us the ability to carefully examine and evaluate further market options and client services for the U.S.-Panama energy trade's benefit," further added Quijano.
The USTDA-funded feasibility study is going to contribute towards ACP setting strategic priorities and laying down the foundations for carrying out LNG-related infrastructure projects along with natural gas utilization at the Panama Canal. Expectations are that the LNG terminal is going to contribute for supporting the implementation of energy- and maritime-related projects that are going to help accommodate the expanded Canal's increased shipping traffic levels.
The USTDA-funded feasibility study is going to be finished through Federal Business Opportunities (FBO).