Verbrugge International, Sif Group and the Rotterdam Port Authority have managed to sign an agreement in principle regarding the building of a Rotterdam-based production and storage/handling terminal. Verbrugge and Sif Group have made plans of setting up a joint venture in order to allocate the foundations' storage and logistics under the same roof. Sif Group will be using the 42-hectare terminal to manufacture steel foundations intended for the purposes of offshore wind farms and the oil and gas industry. Currently, it has established itself as the leader on the North Sea's offshore wind market when regarding monopole production. Verbrugge is going to handle all logistics-related procedures at the terminal along with managing sea-going vessels. The company is among the biggest of its kind in Terneuzen, Vlissingen and Zeebrugge, and given its expansion over at Rotterdam, the growth of its portfolio seems like a persistent trend.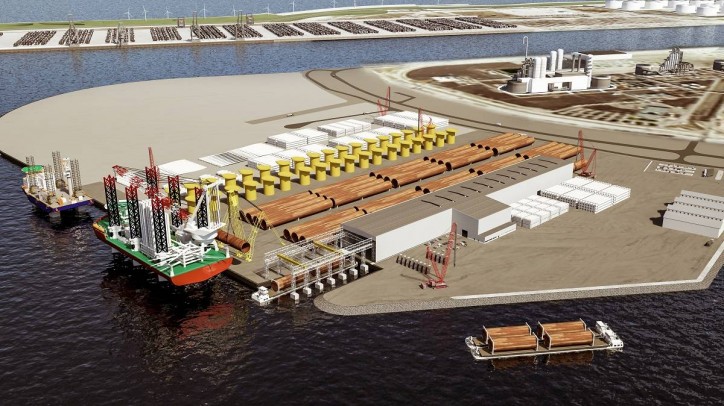 "Given the combination of production along with heavy cargo handling and storage services, Rotterdam is going to swiftly take command of the offshore wind energy market along with the top-level players in their respective marketplaces," said Allard Castelein, Rotterdam Port Authority CEO.

"This Maasvlakte 2 location aligns perfectly with Sif Group's profile for further expansion procedures at a deepsea port. By being able to settle at a strategic location like this we will now manage to give our users a higher level of service and further enhance our position as leaders in the field of foundations for offshore wind and oil and gas in North Sea," commented Jan Bruggenthijs, CEO of Sif Group.

"During the past few years we have accumulated quite a track record when regarding the carrying out of offshore wind projects. We are fully ready and able to undergo the next step forward and professionalize and completely optimize the service we offer. Given Sif Group's market leading position in the foundations market, we have found the perfect partner to expand and build on our market ambitions. Provided that this is now about to happen in a word-class port of this caliber only enhances our drive and ambition," said Martin Verbrugge, Verbrugge CEO.
The Rotterdam Port Authority comments that its expectations are for the terminal to become operational in the middle of next year. It added that it is going to contribute towards transitioning on to renewable energy generation methods as Verbrugge and Sif Group are going to put the port's offshore cluster more firmly on the map in its capacity of a location as well as an offshore wind industry supplier. The operations are going to enhance the current offshore cluster by extending the list of activities with supply of components, handling and assembly. Crane capacity is going to be integrated on shore for high tonnages in order to load the steel foundations and components.
Additionally, the new terminal and the all new plant are going to provide roughly 200 new jobs. The Port Authority is going to construct a deepsea quay with a length of 400 meters for Verbrugge and Sif Group, with a depth level of -16.50 meters NAP, with a potential option of deepening it further to around -19 meters NAP.
Up until this moment, the Rotterdam port has never been a direct visible player in the building of offshore wind farms, due to the fact that there wasn't any sustainable land available on deep water. Now thanks to Maasvlakte 2 this is possible. In the years to follow, the Dutch government is going to allocate a lot of its resources to the expansion of offshore wind farms. The Rotterdam port along with Verbrugge and Sif Group is going to directly contribute for the achievement of goals set in the Energy Accord in the offshore wind sector in order to decrease energy cost levels. The market is demonstrating an encouraging level of growth in other countries like Germany, Great Britain, France and Belgium. Expectations are for substantial growth of the offshore wind farm sector in the years to come.
The Verbrugge/Sif Group plant and terminal are going to occupy roughly 40 hectares of the Maasvlakte 2 plot to the FutureLand information center's north side. There is also a biobased cluster in store for this site according to plans. Various biochemical parties are also demonstrating interest of linking up, where possible, with current port companies, in the form of a co-sitting venture. Thus it is only natural that the biobased ambitions of the Port Authority maintain their importance.