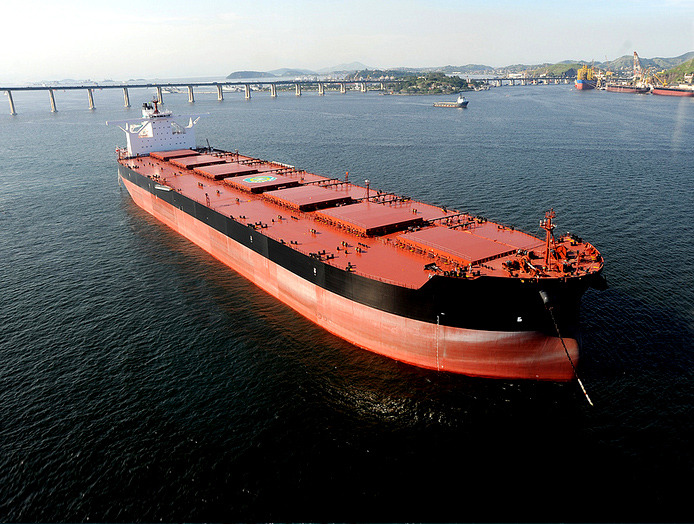 Yuan Zhuo Hai has successfully arrived at Quingado's Dongjiakou Port and has become the 1st Valemax to unload at one of China's ports in two years. The vessel is one of a total of four VLOCs with a deadweight of 400,000 tonnes that were acquired by China Ore Shipping from Brazil's oil giant that is Vale.
China Ore Shipping is a joint venture established between two government-run shipping giants – China Shipping Group and COSCO Group. It managed to acquire four Valemax vessels from Vale back in May for USD 445 million that are now named Yuan Jian Hai, Yuan Zhen Hai, Yuan Shi Hai and Yuan Zhuo Hai. The ships were chartered back by Vale under the stipulations of a 25-year deal, with the two respective parties also agreeing to a 20-year contract for another 10 valemax vessels that are to be constructed by COSCO.
April of 2013 marked the last time that a valemax ship berthed at one of China's ports, the port in question being Lianyungang Port.
Last year Quingado Port managed to finish the 400,000 DWT bulk terminal that is located at Dongjiakou. Zhanjiang Port, Dalien Port and Lianyungang Port have been placing a lot of effort, trying to accelerate the development of 400,000 DWT bulk terminals in order to be able to sufficiently handle valemaxes after the government lifted its ban regarding the vessels back in February, when China's Ministry of Transport released design details regarding new 400,000 DWT bulk carrier ships and all new regulations for big-sized bulk terminal building.