The Blue Queen platform supply vessel, which was constructed over at Ulstein Verft in accordance with an ULSTEIN PX121 design, has been awarded a full 100-point score by the World Port Climate Initiative (WPCI) among the lines of its Environmental Ship Index (ESI). The vessel's owner is Blue Ship Invest AS and its manager is Golden Energy Offshore.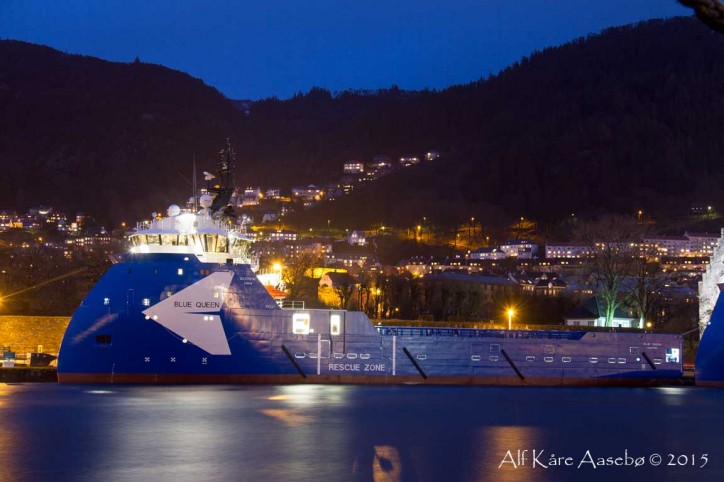 Photo: Alf Kåre Aasebø
The top score is produced via a calculation involving the amounts of reduced emission levels of SOx, NOx and CO2. A vessel is to be in compliance with a number of factors in order to be able to seize the treasured top score mark. For this particular ship, the score at hand was the product of its crew's dedication and the awareness of its manager through their management systems, which have ISO 14001, ISO 9001, OHSAS 18001 and ISO 50001 certifications, and the design of the vessel along with its on-board system solutions.
As a result of the ESI score, the ship receives a discount in the amount of 50% regarding calls to a list of ports, and equal discount in the Pilotage Readiness Fee. In addition, Statoil has called for all ship owners and vessels to maintain an up-to-date ESI, and has issued information that this is to become a requirement for all ships under charter to the company in the future.
"We find it very gratifying to witness our hard work regarding the setting up and maintenance of a good Energy Management system being valued at such a high degree. It is also important to realize that this is going to not only contribute for reducing our operations' respective eco footprint but it will also introduce an economic incentive for owners as well as managers to boost their standards as it provides them with an identifiable measure for comparing different vessels," says Golden Energy Offshore's Per Ivar Fagervoll.
The X-BOW hull along with the diesel electric propulsion system guarantees perfect performance when accounting for fuel consumption levels, station keeping, sea keeping, stability, speed and cargo capacity. The vessel is a lot more eco-friendly due to its low fuel consumption levels coupled with its low emission amount.
Ulstein Verft has constructed a series of a total of 10 PX121 platform supply vessels in recent years, out of which the Blue Queen vessel serves as the 9th one.