The Italian Grimaldi Group has recently signed an agreement for the construction of five new PCTC (Pure Car Truck Carriers) with an option for additional seven ships with the Chinese shipyard Yangfan. The total amount of the investment is estimated for USD 300 million.
Grimaldi Group is a fully integrated multinational logistics Group specialising in maritime transport of cars, rolling cargo, containers and passengers and the new agreement came as a part of the expansion and modernisation programme of its owned fleet.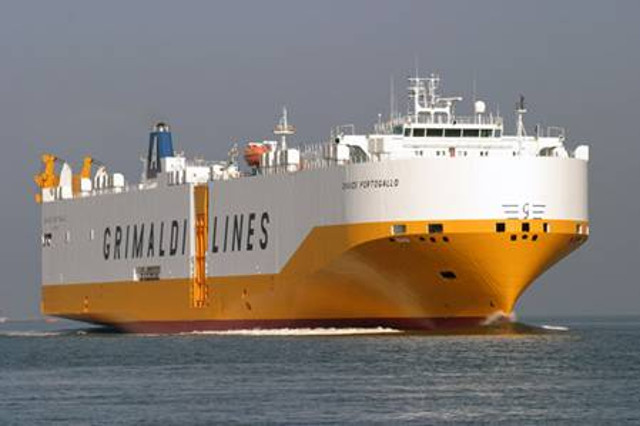 Image: FrighterVoyages
The five newbuildings in Grimaldi's fleet are expected to be delivered by the end of 2017, each one of them will have the capacity to transport over 7,800 vehicles. The ships will be deployed on the Group's regular service between the Mediterranean and North America. More specific, the new ships will be used to transport brand new vehicles produced by FCA (Fiat Chrysler Automobiles), which has to be delivered to the US and Canadian markets.
The President of the Grimaldi Group, Gianluca Grimaldi, together with the Managing Directors Emanuele Grimaldi and Diego Pacella commented:
"Besides being the largest car carriers on the market, the newbuildings will be highly efficient in terms of fuel consumption and environmental friendliness, so as to be named "The Green PCTCs."
According to the company's head officials, their already sizeable fleet will be enhanced with these newbuildings, enabling it to provide constantly sophisticated services to the automotive sector.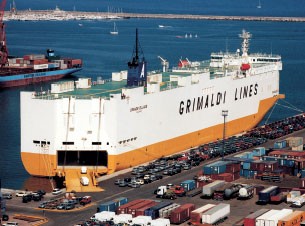 Costantino Baldissara, the Commercial, Logistics and Operations Director of the Grimaldi Group, also expressed great satisfaction for the signing of the agreement, which will meet the increasing needs of FCA.
With the new agreement, the Grimaldi Group enriches its latest newbuilding programme which started two years ago.
Besides the five new PCTC ships, the Italian company is waiting the delivery of two con/ro ships, which has to be delivered by the end of 2015. These ships are the last of a series of six, built at Korean shipyards. All six ships will be deployed in the service line between Europe and West Africa.
Furthermore, the company is expecting the delivery of five con/ro vessels by 2016 to the subsidiary company Atlantic Container Line.
The vessels will have a loading capacity of 3,800 TEUs, 28,900 m2 of rolling freight and 1,307 cars. They will be the largest vessels of their type ever built in the world, as well as faster, cleaner and more efficient than the ones currently in service to Atlantic Container Line.