The CMA CGM Group made an announcement that the CMA CGM Georg Forster called in England for the 1st time on the 6th of this month.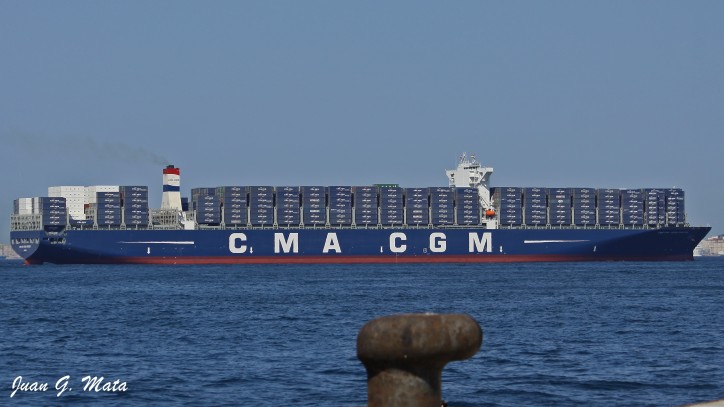 Photo: Juan Gabriel
Given the vessel's length of 398 meters and width of 54 meters, along with her CMA CGM Kerguelen sistership, she is not only the biggest containership at CMA CGM Group's disposal but is also the biggest vessel sailing under the United Kingdom flag.
The enormous ship has a carrying capacity of 18,800 TEUs (twenty feet equivalent) – if you place all of the containers aboard the vessel together in a straight line you will cover the distance between Southampton and London. Its size surpasses the Empire State Building's height, its width is bigger than the Olympic pool, and its respective thrust is equal to the combined one of ten Airbus A380s.
The christening ceremony for the CMA CGM Georg Forster has been scheduled to take place in Hamburg on the 9th of this month.
The vessel will be appointed to one of the most emblematic CMA CGM Group lines, calling at 11 different countries.
The large ship has the necessary capacity to carry approximately 200,000 tons of goods between Middle East, European and Asia-based markets.
It comes equipped with the most modern eco-friendly systems: a new generation engine, a fully optimized hull design, a twisted leading edge rudder with bulb. Due to the stated innovations it is able to reduce its eco footprint by 10% when compared to other vessels. Given its estimated emission level of 37g of CO2 per km regarding each container, the vessel can easily be labeled as being among the world's greenest transport means available. Additionally, along the lines of CMA CGM Group's commitment, the vessel's eco footprint is in full compliance with the 2025 energy efficiency regulations.