The fourth Todaro-class Type 212A air independent propulsion (AIP) conventional submarine was officially presented for lunch by the Italian Navy on July 4th, at a ceremony at Fincantieri's Muggiano shipyard.
The submarine ordered by the Italian defence ministry in April 2008 was named Romeo Romei (S 529). It is the last of a pair of batch two 212As submersible boats ordered by the Italian Navy, as part of a joint programme with Germany for the acquisition and support of a new submarine.
Italy has already received the first batch of two submarines, including the boats Sciré (S 527) and Salvatore Todaro (S 526). The first boat from batch two, Pietro Venuti (S 528) was launched on October 9, 2014 and is scheduled to be put into service in December 2015.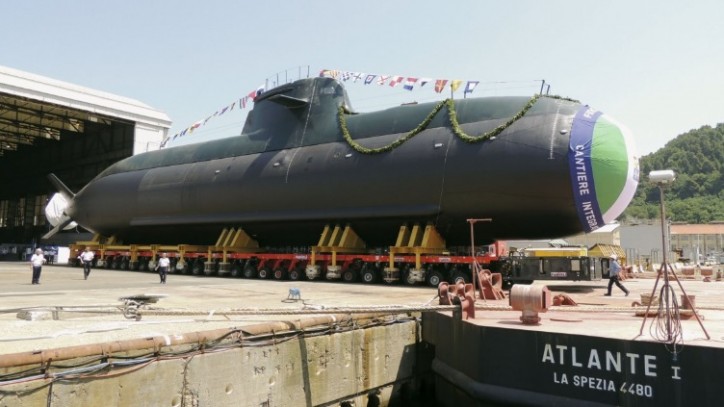 Image: Luca Peruzzi
At the ceremony, Lieutenant Fabio Casamassima, the Romeo Romei 's commanding officer said:
"Romei is planned to complete fitting-out and to conduct harbour acceptance trials between the end of 2015 and the beginning of 2016, when sea acceptance trials will begin, in order to be delivered in September 2016. We will conduct a similar acceptance tests plan to Pietro Venuti"
He explained that during the acceptance procedure, the submarine will be tested by 10 test launches of the new WASS Black Shark Advanced (BSA) heavyweight torpedo.
Pietro Venuti has successfully completed the first two of eight BSA firings, which were planned earlier. The submarine's acceptance trials begаn at the end of April, 2015.
According to Commander Giuseppe Galeandro, the Pietro Venuti's commanding officer, the boat is expected to conduct fuel cell-based Air Independent Propulsion long-endurance tests as well as degaussing and these tests will take place later in 2015 on the navy's Augusta range.
The design of navy's batch-two submarines is different compared to the first duo. A series of platform and system enhancements has been made (although emphasis has been placed on retaining the maximum level of logistics and maintenance commonality with the first batch).
Among the most significant enhancements are: the Atlas Elektronik DBQS 40 electro-acoustic suite, which has been updated to the fully digitised CSU 90-138 version; the OMS 100 optronic surveillance mast; and the Kongsberg MSI-90U Mk 2 submarine combat management system (CMS), which offers the ability to control the boats' periscopes from the CMS consoles.
Some improvements in the navigation system have also been made, such as an installation of ECDIS digital cartography.
The communications suite has been augmented with the addition of an SHF-band SATCOM-dedicated mast and Link 16 Joint Range Extension Applications Protocol-C (JREAP-C) capabilities. The Indra MRBR 800 has been installed as the electronic support measures (ESM) system.