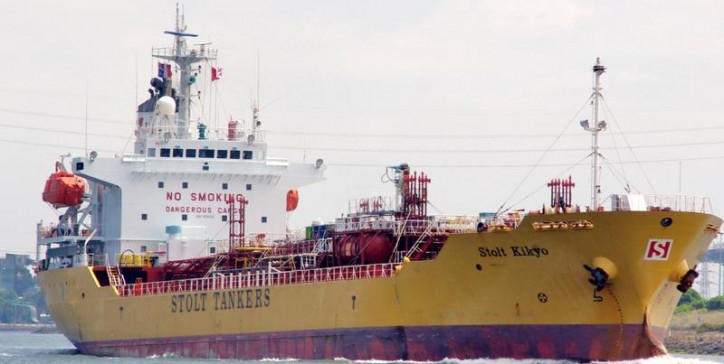 The continued focus regarding underpaid seamen calling at Australia's ports by the International Transport Workers' Federation (ITF) has managed to snare another shipowner. According to the ITF, the Chinese seamen aboard the 11,545 DWT Stolt Kikyo parcel tanker (constructed in 1994), which berthed in the Tasmanian Davenport, this morning, have not received their respective wages for the last two months and haven't received any coastal trading payments that are stipulated by Australian laws. The 24-man crew is seeking to receive missing wages in a total of approximately A USD 250,000, according to the ITF.
The ITF has been undergoing a campaign aimed at keeping Australian seafarers in Australia's waters, an aspect that Canberra is eager to change.
The vessel is currently moored at a rather short distance away from the Australia-manned Alexander Spirit, which has been in Devonport for over a week following the sacking of its crew and awaiting for its all new foreign crew members that are to reportedly work for USD 2 per hour, said the ITF.
The Stolt Kikyo, which sails under Liberia's flag is owned by a joint-venture established between Stolt-Nielsen and Nippon Yusen Kaisha (NYK). When regarding NYK, Stolt Kikyo is the newest embarrassing setback to occur in Australia. The Japan-based line has been mentioned in a number of headlines by local media in regard to the mysterious deaths of three crew members aboard the coal carrier of one of its subsidiaries. The vessel has been dubbed my local media as the death ship.
"Global shipping is a large business that is responsible for delivering enormous profits to the corporations that have taken control of it. These profits, however, are increasingly being generated via the exploitation of seamen coming from developing nations. This current tanker is trading in Australia's waters, it is servicing Australia's ports, but it is employing the cheapest possible international crews, all of which on an Australia state license. The facts in question make it even more astounding as to how these seamen are being treated as if they were characters in a Charles Dickinson novel. The federal Government is to take immediate action in order to rectify the noted breaches and make sure that all ship operators comply with the international conventions and the basic human rights," a spokesman for the ITF commented, today.