The 21st annual Singapore-U.S. Cooperation Afloat Readiness and Training (CARAT) is taking place in the time period of July 13th till July 24th involving a total of 1,400 personnel appointed from both countries, as commented by Singapore's Ministry Of Defense via a press statement.
The exercise emphasizes on bettering conventional maritime warfare capabilities like anti-surface, anti-air, anti-submarine operations and various maritime base and air defense procedures. Both countries' respective navies are going to employ their own Unmanned Aerial Vehicle (UAV) systems for the purposes of conventional maritime warfare for the very first time, along the lines of the initiative. According to schedule, they are to also conduct a joint torpedo firing test.
The CARAT exercise is going to feature a total of five ships, a naval helicopter, a submarine, a fighter aircraft and a maritime patrol aircraft from RSN and the Republic of Singapore Air Force. The USN and U.S. Marine Corps are going to feature three ships, three naval helicopters, a submarine as well as a maritime patrol and reconnaissance aircraft.
The two navies are going to deploy RSN's ScanEagle UAV from the RSS Valour and RSS Vigour missile corvettes, along with USN's FireScout UAV from the USS Fort Worth littoral combat ship.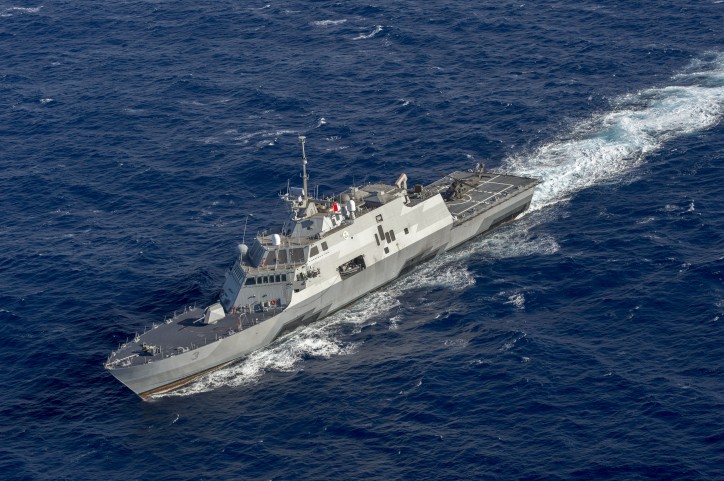 USS Fort Worth Photo: Wikipedia
Rear-Admiral Lew Chuen Hong, RSN's Fleet Commander along with Rear-Admiral Charles Williams, USN's Commander Logistics Group, Western Pacific, officiated the opening ceremony that took place on Monday.
"Exercise CARAT has proven over the years that it is able to provide both navies with perfect training and better interoperability. It is my belief that this close co-op effort and deep mutual understanding are the basic foundations of our committed trust," commented RADM Lew during the opening ceremony.

"This exercise will mark the 21st year in which our armed forces opted in to come together and carry out the CARAT exercise. Given our enhanced military co-op venture today, it is natural that our relationship has managed to only mature over the years," further said RADM Williams.