The VesselsValue.com ships data platform has managed to round up the top spenders when regarding second hand tonnage for 2015's first half.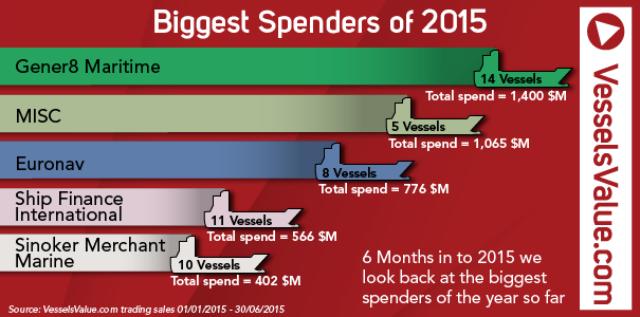 Image: vesselvalue
So far, United States-based Gener8 Maritime is leading the industry in regard to total amount spent on second hand tonnage with approximately $1.4 billion appointed for 14 ships. The seaborne crude oil transportation services company was formed early on this year following a merger between Navig8 Crude Tankers Inc. and General Maritime Corporation.
Malaysia-based MISC tanker shipping group came in 2nd with $1.065 billion delegated for five second hand ships.
Euronav was 3rd with $776 million for eight ships, with Ship Finance International coming in 4th with its $566 million appointed for 11 vessels. Sinokor Merchant Marine rounded up the top 5 with its $402 million for 10 ships.
VesselsValue.com pointed out that it employed VV value at the day of the given sale when the particular sale price was yet unknown.