The LNGreen project of DNV GL, a joint-industry initiative with GTT, Hyundai Heavy Industries (HHI) and GasLog, has managed to produce a new LNG carrier design with 8% more efficiency.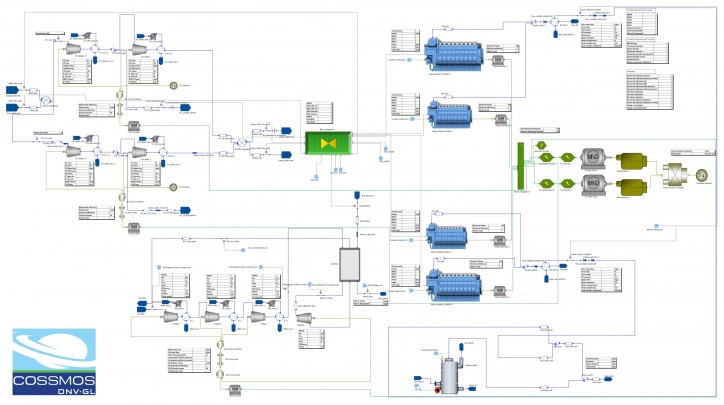 The project was able to contribute for a 5% increase in cargo volume and boost up efficiency, thus exacerbating further the potential expenditure cuts for operators. This was possible by using DNV GL's new COSSMOS modeling suite, and managing to combine findings with real-life operating conditions.
HHI and GTT's co-op led to the increase of a design of an initial 174,000 cu m capacity to 182,800 cu m without having to grow the overall length, draft or breadth.
Given that the vessel mainly runs on boil-off gas from its tanks, the COSSMOS system contributed for establishing the necessary limitations regarding various operating profiles of boil-off gas from different LNG varieties, in terms of propulsion, speed, head and electrical demand.
"Via the use of enabling computer tools we have been able to develop a ship which has a roughly 8% higher energy efficiency level and comes along with a 5% increase to its cargo volume capacity. The design is in full compliance with new IGC code, Panama requirements and significant advances in a vast array of features, such as speed-range flexibility, boil-off rate and hull form," commented Martin Davies, DNV GL, project manager.

"We were able to fuse the unique competencies of some of the industry's major experts, like GTT, HHI and GasLog, with top-notch equipment such as the COSSMOS machinery systems simulation and optimization computer platform and advanced hull optimization software, thus realizing innovations that can potentially generate a fair share of added value," added Nikolaos Kakalis, DNV GL Research & Development, Greece, and head of COSSMOS development.

"Given that LNGreen makes use of current technology systems it is important to note and emphasize that orders for the concept design could be placed today."