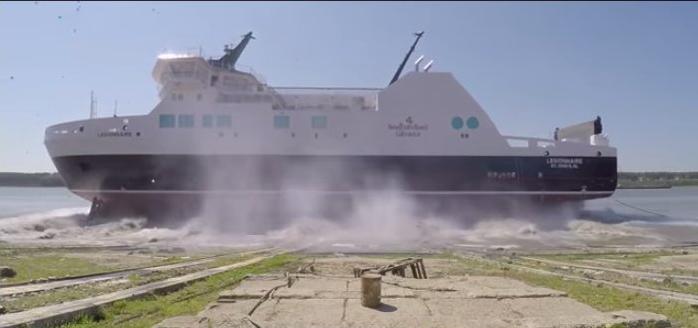 On July 15th, Romanian Damen Shipyards carried out a launching ceremony for the all new MV Legionnaire ferry for Bell Island, which is currently in its final construction stages.
"The MV Legionnaire is to soon be a part of our transportation network in Newfoundland and Labrador. It is going to greatly contribute for us to be able to offer a better and more reliable service to Bell Island resident and businesses. The vessel serves as the perfect example of the commitment displayed by our government towards stimulating marine ferry services for Newfoundlanders and Labradorians," commented the Honorable David Brazil, Minister of Transportation and Works of Newfoundland and Labrador, who was present at the launching ceremony.
The brand new ferry is going to have a length of 80 meters, be an ice-class vessel with roll-on, roll-off capability and be able to provide proper accommodations for a maximum of 200 people and 60 vehicles. It is to also provide passengers with a more enjoyable experience and is going to feature an increased level of capacity for functioning in harsh ice conditions.
It comes along the lines of significant efforts of renewing and modernizing the provincial ferry fleet, which has two new ferries at its disposal already. The provincial ferry fleet is responsible for transporting over 900,000 people, 400,000 vehicles and roughly 20,000 tons of freight in over 50,000 arrivals and departures on an annual basis.