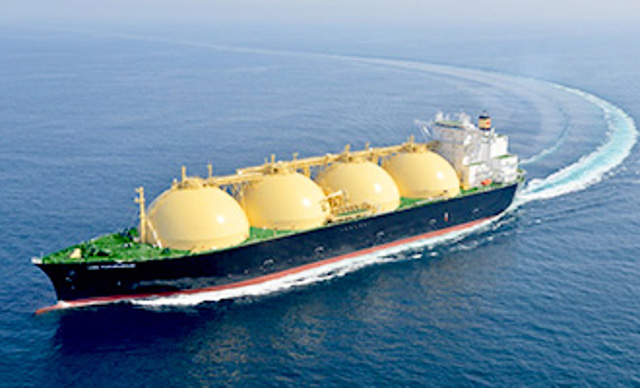 The new-building LNG Fukurokuju, which is co-owned by the Tokyo-based conglomerate Mitsui OSK Lines Ltd. (MOL) and the Japanese utility company Kansai Electric Power has been named at a ceremony hosted by Sakaide Works of Kawasaki Heavy Industries.
Among the special guests at the ceremony were KEPCO President and Director Yagi, who named the new liquefied natural gas (LNG) carrier, and his wife, who cut the rope.
The service operations of the LNG Fukurokuju will consist of a broad range of projects including the Australia/Pacific LNG Project after its delivery slated for 2016.
After the ship's completion, the new LNG carrier will be the largest ship in its class that can pass through the expanded Panama Canal.
LNG Fukurokuju adopts a new steam turbine engine that reuses steam for heating, which will also reduce fuel consumption, and an advanced heat insulation system that offers the lowest LNG vaporization rate – 0.08% – of any LNG carrier in the world.
Its environment-friendly, economically-advanced design also effectively controls surplus boil-off gas.
Back in 2012, MOL signed a long-term contract with Kansai Electric Power for two LNG carriers.

The second ship is being built by Mitsubishi Heavy Industries and its delivery is expected in 2017.
The vessel has a 155,300m3-class cargo tank capacity, and is one of the Sayaendo series carriers developed by Mitsubishi Heavy Industries, featuring a continuous cover over its four Moss-type spherical tanks.