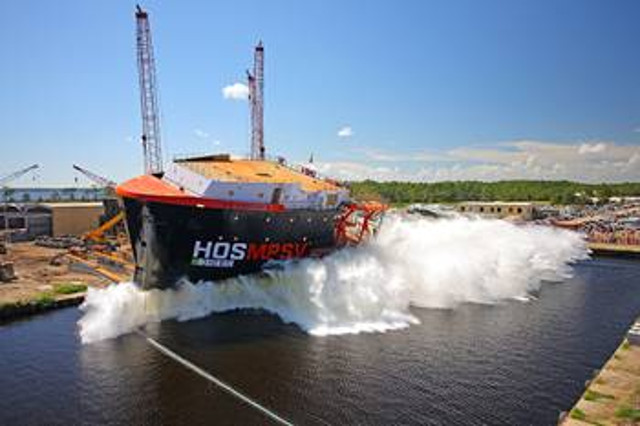 Eastern Shipbuilding Group, Inc. has launched the second of two multi-purpose service vessels in the HOSMPSV 310ES series for Hornbeck Offshore Services, LLC., the shipbuilder announced in a press release.

The launching ceremony of HOS Woodland (Hull 242) took place on June 19, 2015 at Eastern's Allanton facility in front of hundreds of Eastern employees and guests, who were present.
It is the second ship to be christened on Eastern's newly constructed 425' rocker beam system installed on the northeast corner of Allanton's 760' launch basin. The first HOSMPSV vessel , HOS Warland (Hull 241), was launched in March 2015.
Eastern's president Brian D'Isernia said a few words about the vessel's size, the onboard 250MT subsea construction crane, the twin remote operated vehicle (ROV) capabilities and thru-hull moon pool features.
He thanked all members of its team for their ongoing commitment to delivering high quality vessels, on-time and on-budget, the continued growth of Eastern Shipbuilding, and its long-term relationship with Hornbeck Offshore, the offshore marine industry and that there will be more vessels in the future.


Both vessels will be sailing under the US flag, they will be Jones-Act-qualified, with 9,000kW of installed AC diesel electric power, twin azimuthing Z-drives, DPS-2 MPSVs and designated HOSMPSV 310ES by Hornbeck Offshore.
Each vessel is ABS-classed hull and machinery, oceans service and reviewed for the United States Coast Guard under the Alternate Compliance Program (ACP 2-95), SOLAS/IMO, ABS +A1, +AMS, with the following Class Notations, +ACCU, +DPS-2, UWILD, FFV-1, +Circle E, Offshore Support Vessel (HNLS, HDC, HLC), GP, RRDA, HELIDK, ENVIRO, CRC, SPS (special purpose ship).

These high-tech MPSVs feature four Cat 3516C 16-cylinder turbo-charged EPA Tier 3/IMO II diesel generator engines that are rated 2,250 kW at 1,800 rpm.
Main propulsion power will be provided by two GE Energy furnished Hyundai 2,500 kW 690VAC motors driving two Schottel SRP 2020 FP Z-Drives with nozzles rated at 2,500 kW at 1,025 rpm each for a total of 6,704 HP.

GE Energy Power Conversions provides the complete integrated diesel electric package, including the propulsion and thruster drives, four 2,250 kW generators, motors, control systems, Duplex Series C DP system, switchboards, motor control centers, automation and navigation/communication electronics.

Each 302'x76'x26' HOSMPSV 310ES vessel is engineered by VARD Marine of Vancouver, Canada and features the following capacities:
Deadweight Tonnage: 5,567 LT
Total Fuel Capacity: 521,800 USG
Day-tank Fuel Capacity: 27,183 USG
Drill Water Capacity: 618,655 USG
Potable Water Capacity: 25,233 USG
Liquid Mud Capacity: 20,190 bbls. (9) Tanks
Methanol Capacity: 1,707 bbls. (2) Tanks
Clear Deck Area: 10,338 sqft. (Approx.)