On Friday (July 31st) the 11,401-ton Japanese passenger ferry Sunflower Daisetsu, with nearly 100 passengers and crew aboard, caught fire off the coast of Tomakomai, Hokkaido, reported the local coast guard authorities.
All people aboard were evacuated except for Kunihiko Orita, a 44-year-old navigation officer, who remained missing after checking of the passenger and crew lists on Saturday morning.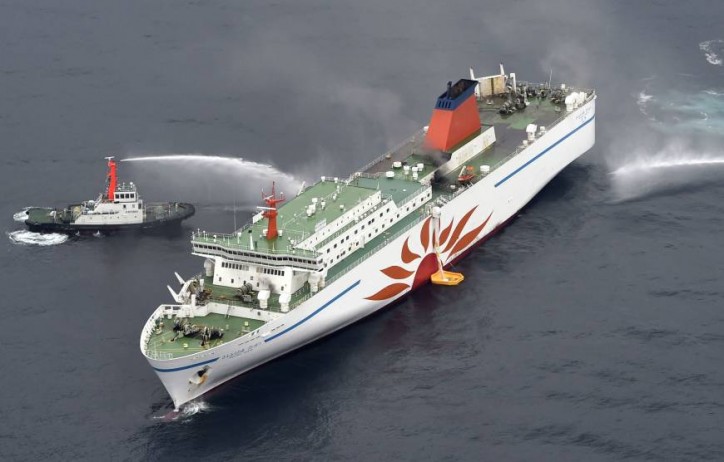 Image: KYODO
A special rescue team of the Japanese Coast Guard began searching for the missing crew member, while efforts continued in the morning to extinguish a fire that broke out the previous night.
The Sunflower Daisetsu crew made a distress call at 5:32 p.m local time, while sailing approximately 50 km off the coast with 94 people aboard.
The ferry's operator MOL Ferry Co. said the fire may have started in an area where three or four refrigerated container trucks were parked. According to the operator, the power to the trucks' refrigeration units was provided via cables as the vehicles' engines were turned off. The company believes that this may have had something to do with the cause of the fire.
On Friday at 6 p.m was the last receive information from the missing navigation, while he was engaged in firefighting activities. In his final contact with the captain in a walkie-talkie conversation, Orita was quoted as saying:
"There's horrible black smoke here. It's hard to see anything nearby."
According to the local marine authorities there are no reports for injured people or others missing, except the Sunflower Daisetsu's navigation officer.
Local media reported that the Japanese coast guard has dispatched 15 patrol boats and five aircraft to the scene, while another four ships sailing nearby were involved in the operation.
All passengers and crew members have been safely evacuated.
The captain remained on board the ferry. He was in radio contact with the rescue teams until the completion of the rescue operation.
The ferry had left Ibaraki Prefecture's Oarai port Friday, bound for Tomakomai, south of Sapporo.