A collision between two containerships in Westport Harbor at Port Klang, Malaysia blocked the ship traffic and port operations on Saturday, August 1st.
At the time of the incident, the 2010-built MOL Empire was docked at the quay, when the 2009-built Northern Democrat grazed it, while maneuvering to enter the port.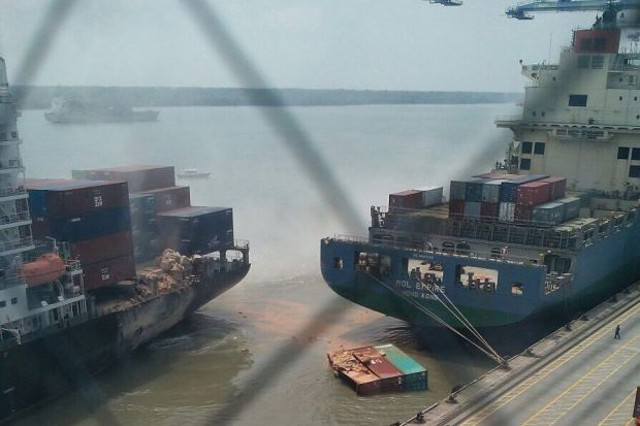 Image: TheStar Malaysia
One of the legs of the quay cranes has been damaged after the collision between both vessels, also three shipping containers have fallen into the sea from the berthing ship.
Operations on the docked Hong-Kong-flagged containership MV MOL Empire, have since resumed and have been certified safe. The 5,041 TEUs vessel was allowed to leave the port once the loading and unloading was completed.
The port authorities at Westport Harbor said in a statement that the cargo vessel has since been safely moved to the pilot station, also the area where the incident happened had been cordoned off pending further investigations.
"The three boxes are currently being lifted from the water. We are still studying the estimated cost of the damage. No casualties have been reported," Westport Malaysia said.
The 3,534 TEU Northern Democrat remained at the pilot station and was scheduled to berth at the quay later on in the day.
As port authorities stated, operations had resumed without any delay and the main gate where ships enter Northport and Westport remained open.