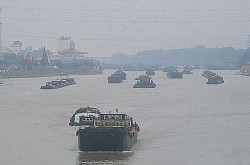 The Chinese company LNG Power Shipping has signed shipbuilding contracts with Honghua Offshore for the construction of 200 LNG-powered vessels. The order of Shanghai-based company, which is principally engaged in the business of construction waste disposal and material supply is estimated for approximately RMB 650 million or $104.6 million.
According to the agreement Honghua Offshore will build 100 vessels 750-dwt each, fifty 950-dwt vessels and 50 cargo ships 1,350-dwt each. All vessels will be included in the Shanghai inland river shipping services.
The order is the first inland river vessel order that Honghua Offshore has ever received. For LNG Power shipping this is the second batch of vessel that the company have ordered this year. The previous order was in March for the building of other 200 LNG-powered vessels at Jiangsu Qingfeng Shipbuilding.
The President of LNG Power Shipping, Zhang Weiguo, stated that the company intends to invest in 600 LNG-powered vessels over the period until 2018 and 11 companies have been integrated in the relevant industrial chain, along with Qinfeng Shipbuilding.