A general cargo ship was boarded by a helicopter team of the French Coast Guard after sailing in wrong lane for over an hour in the English Channel in the late evening on August 6th.
The 3,850 dwt-cargo ship Musketier, built in 2006 and sailing under the flag of Gibraltar was on its way from St Petersburg in Russia to Bermeo in Spain, loaded with iron ore cargo, when was spotted by MRCC Calais heading towards French coast in the wrong channel lane.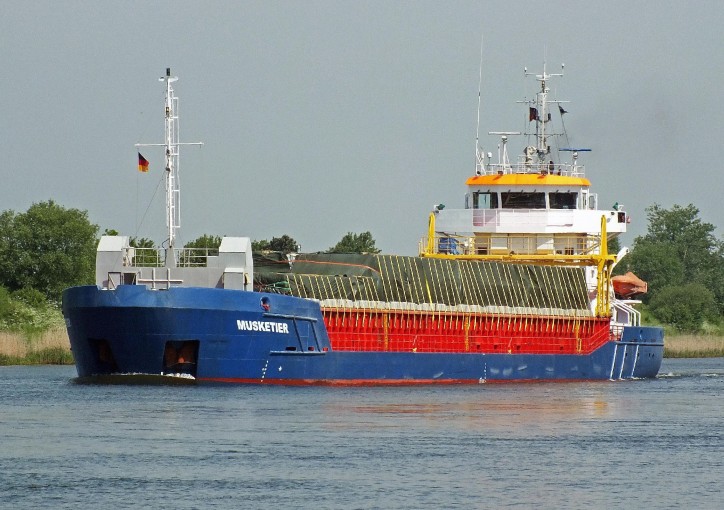 Image: L.J.Axt
According to information released by the French Coast Guard Center at Gris Nez, the dangerous maneuvering across the channel was detected around 22:40 local time on Aug 6. The ship's crew were apparently absent from the bridge, because after several attempts to contact them, nobody replied the VHF calls.
As the cargo ship Musketier was dangerous, obstructing the safe navigation in such a busy sea lane, a naval helicopter was dispatched from Le Touquet. The Coast Guard air force team was present at the ship location at around 23:24 local time.
After several more unsuccessful attempts to contact the ship, personnel from the helicopter boarded the vessel and found the master, who restored a correct course.
A tug boat of the French maritime gendarmerie was seen to escort the ship across the Channel as a precautionary measure for the navigation safety in the area.
While the Coast Guard spokesman confirmed the incident details, he did not comment why efforts to communicate with the ship's crew were not successful.
The British Maritime and Coastguard Agency stated that it also tried to contact the ship on Channel 16 but they did not receive an answer too.
The Musketier is managed by the German company Briese Schiffahrts. A representative of the managing company said that she had received a report on the incident from the French coastguard authority and had contacted the owner to seek clarification.